How this youth group is minting money from cassava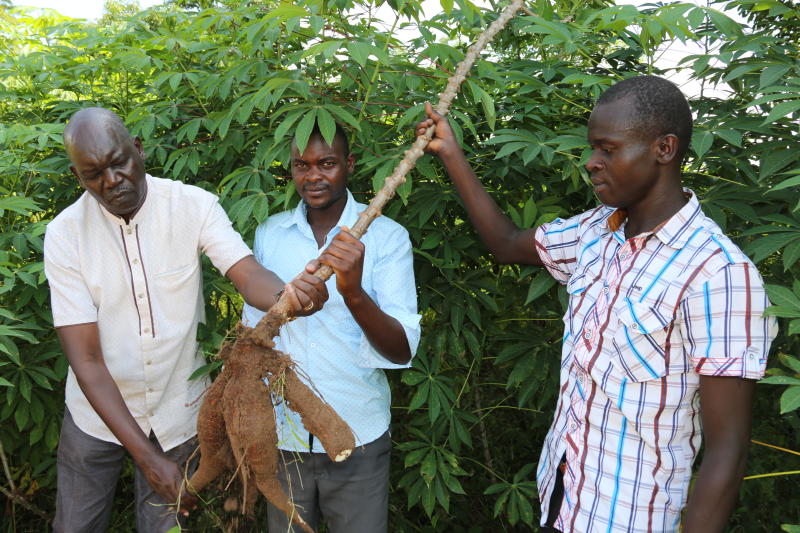 Akwenyuni Youth Group in Teso North sub-county is an impressive unit. With 33 members, the group which comprises university graduates and Form Four leavers, is equipping youth with agribusiness skills so they can be their own bosses.
As a unit, they grow cassava, traditional vegetables and avocado at Okuleus village.
So what inspired the idea?
Group chairman Wilson Karan says they took this risky route after realising that most white-collar job are hard to come by.
"Instead of just sitting and waiting, we decided to do something with our talents and skills. From our research, we discovered there were many untapped farming opportunities. Like cassava, amaranath and nightshade has a market yet the produce is in short supply," Karan observes.
Ten good years
This journey started ten years ago. After conceiving the idea, each one of the members paid Sh1,000 seed capital for the project.
"We bought cuttings for planting and leased land," he says.
Though they had several missteps especially cracking the market nut, now they have broken even.
Positive attributes
"Usually, buyers come all the way from Nandi, Uasin Gishu and other neighbouring counties to purchase from us. Because people have embraced healthy eating habits, the demand is insatiable," says Karan.
They willingly part with Sh5,000 for every 1,000 stems of mature cassava on the farm. Acres upon acres of cassava resplendent in their green canopy colours at Okuleus.
Besides the tubers, members also sell cassava cuttings for propagation purposes. A full sack of the cuttings is sold at Sh500.
They plant different varieties of the crop. Some varieties take up to two years to form enlarged tubers but the most common ones take at least eight years to mature.
The yields
"The good thing with cassava is that it does not require manure, pesticides, intensive weeding, or watering once planted," says Karan.
The group boasts of five acres under cassava translating to thousands of stems.
"We have varieties sourced from Kenya Agricultural Livestock and Research Organisation (Kalro), the traditional ones and those coming in from Uganda," says John Ekupat, the group secretary.
How they work
"Once we have sourced the cuttings, members gather to plant them on a date specifically agreed upon.
Next, they embark on splitting the cuttings and planting them at least one metre apart horizontally on well prepared farms.
"The beauty is that buyers come to our farm. We rarely spend money on transporting our produce to the market," says John Ekupat, the group's secretary.
The challenges
Every good idea has a flip side.
Land being a challenge, the young farmers have resorted to leasing to remain afloat.
They have also been voluntary sensitising and encouraging locals to grow cassava to benefit out of the huge demand.
For maximum yields, they inter-crop it with beans, maize, finger millet, sorghum, bananas and avocado.
The group's activities have captured the attention of area MP Oku Kaunya's attention already.
"We are impressed with what they are doing and through CDF kitty, we plan to give them financial assistance to increase productivity," he said.
According to Kaunya, the World Bank is interested in setting up a cassava processing plant in the area at a cost of Sh2 billion.
"Experts have since been dispatched to ascertain the viability of the project, the factory would require 57,000 metric tonnes of the tubers to begin with, that explains why we are keen on mobilising farmers," he said.
The legislator said CDF will also release money for training farmers, buying cuttings from Kalro and issuing other farm inputs.
"We want to rope in as many farmers as possible for sustainable production of raw materials."
Two years ago, East African Agricultural Productivity Project (EAAPP) showed interest in setting up a cassava processing plant at Simba Chai in Teso South sub-county.
The facility was projected to cost Sh10 million and expected to benefit at least 15,000 cassava farmers from Busia, Bungoma and Siaya counties.
Busia had identified two-acres for the ambitious project.
"As elected leaders from this region, we have since met the governor with a view of taking over from where the project was left, the factory, once operational will produce a wide range of products including cassava chips, crisps, bread as well as starch for both domestic use and export," said Mr Kaunya.
Want to get latest farming tips and videos?
Join Us