What it takes to rear an award-winning animal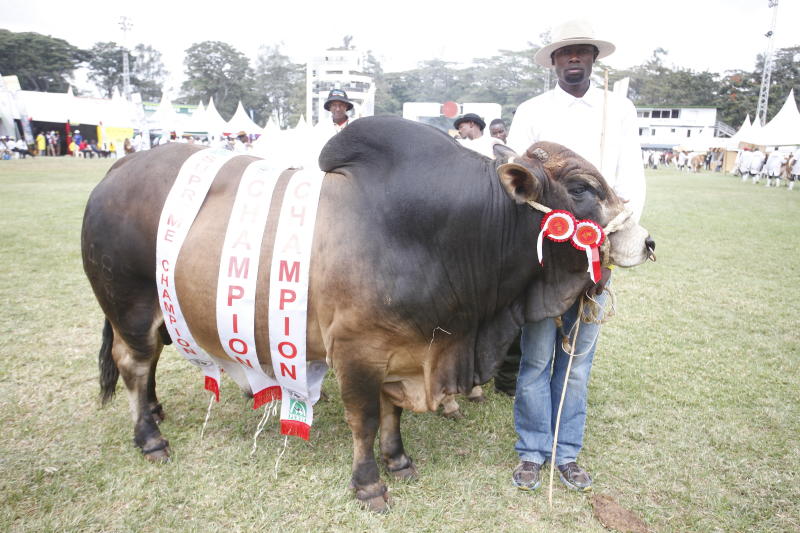 If you are a breeder, the Annual Breeders Show at Nairobi's Jamhuri Park is one of those events you cannot afford to miss. Even President Uhuru Kenyatta, himself a dairy keeper, knows this.
As is the custom every year, the President was the official guest at the event that attracted more than 10,000 beef and dairy keepers from Kenya and beyond. The event had many highlights from technology to the auction and parade.
A cow from Ol Pejeta Conservancy stole the limelight this year. The established conservancy keeps the Boran beef cows that were brought to Kenya 200 years ago.
Survival for the fittest
When the livestock manager presented their 700 kilogram Boran beef cow at the parade, there was no doubt the giant cow would carry the day as the ultimate champion.
Two years ago, she won the under-five reserved junior champion.
But what does it take to rear an award winning animal? "I think it's good genes and management practice. Our cow is a real survivor. Given that it has come from an area where it has to compete for resources with wild animals, it is remarkable it has won," says Richard Van Aardt, Ol Pejeta Beef Livestock and Agriculture manager.
Van Aardt says their well-built cow carried the day due to its masculine body, better sheaths and well balanced testicles, softness of the flesh, weight length and a well-balanced top line.
"We have 90,000 acres of grazing land at Ol Pejeta. This is shared between the wild animals and cattle. This is a big challenge for us," Van Aardt says.
Milk production per day
The conservancy has 7,500 male and female cows grazing in the area. There were more showstoppers at the event.
Dr Romi Grammaticus, the owner of Ole Ndeti farm in Ololua Ridge in Karen, showcased the Jersey dairy cow that won the overall category as the supreme champion interbreed. This is basically the animal that had admirable qualities among all the cow breeds.
But what makes 'Ole Ndeti on Time Honesty' as the jersey cow is known tick?
Though the cow only produces 22 litres of milk per day, it beat other 'contestants' owing to its high milk protein, its easy management, bigger returns and it ability to feed on less food which reduces its cost of management.
"I have a herd of 30 cows in my farm. What I feed them on is way much less than what others feed on in a day," says the owner.
With this Jersey cow's milk butter hitting a 5.6 per cent range and a 3.5 per cent protein content, the jersey cow can sire 12 babies in a span of 14 years before its milk production levels dip.
Milk levels
According to Grammaticus, the 20-acre Ole Ndeti farm uses only 10 acres for dairy keeping. It has also been helping other dairy farmers in improving the breed of the 'Kienyeji' cows through the 80-year old Jersey Cattle Society of Kenya.
Grammaticus says this has helped solved the issue of middlemen who sell fake inseminator.
"We sell a jersey in-calf pure breed heifer at Sh200,000. Out there you can get it cheaply but chances of being sold a fake breed are high," she points out.
She says, to avoid falling into such traps, a potential breeder should seek milk records of the cow they are buying from the Dairy Recording Service of Kenya (DRSK).
"You should not be duped into buying a fake cow breed. To avoid that trap, first check the cow records from DRSK where genuine dairy cow farmers send their records for review every month. This way, you will know a cow's potential and weaknesses," Grammaticus says.
Modern equipment
Another stand that stole even the President's eye was the Euro Equipment that showcased modern dairy equipment from the Netherlands. One of the attractions was the milking machinery christened Herringbone milking system.
"The Herringbone milking system increases your milk production by 70 per cent. It also takes less time to milk your cows as compared to using your hand," the firm owner Omingo Magara explained to the President, who took particular interest in the technology.
According to Magara, Herringbone milking system helps in utilising the little time a cow's milk hormones flow in the body from the brain.
The milking technology helps a dairy farmer to milk a cow within seven minutes, which is within the time that the milk hormone in cows drops from the brain to help in milk flow.
The annual breeders event is organised by the Livestock Breeders Trust to promote the Kenyan livestock industry through the exhibition of superior livestock, display of animal health and nutritional products and modern farming technologies.
Want to get latest farming tips and videos?
Join Us