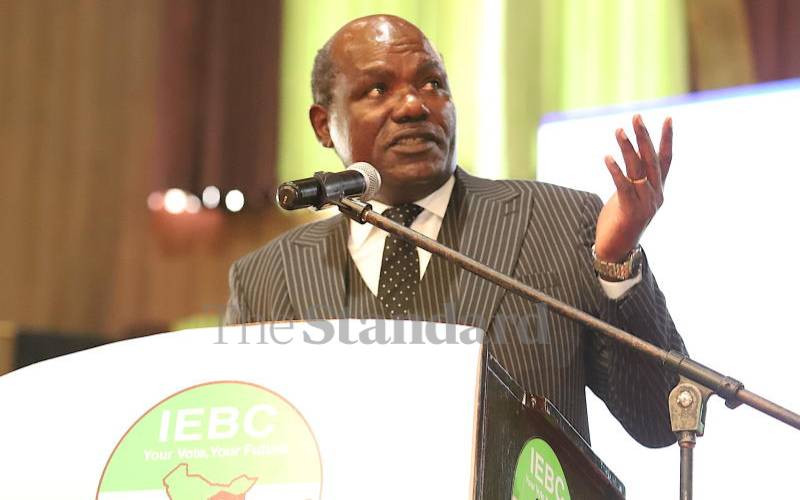 The Independent Electoral and Boundaries Commission (IEBC) is yet to convince political parties to allow it to drop manual registers and only identify voters using electronic means.
With 38 days to the August 9 general elections, the main protagonists, Raila Odinga and William Ruto are reading from different scripts.
There are two choices: Use both manual register and electronic register or only electronic register to identify the up to 22.1 million voters that are eligible to vote.
The difference between electronic and manual registers
IEBC is counting on the Electronic Voter Identification System (EVID) to identify voters come August 9. Basically, EVID is an electronic poll book.
EVIDs were used for the first time during the March 4, 2013 elections where IEBC relied on 29,000 laptops laptop with attached fingerprint readers and 4,600 handheld devices with in-built fingerprint readers.
The EVIDs verify and confirm voters electronically as registered in the biometric voter register (BVR). The BVR captures a voter′s facial image, fingerprints and civil data.
A physical register, which has thumbnail photos of voters, is distributed to polling centres for people to check and verify their registration details before being allowed to vote. It is used as a backup when electronic identification fails.
Why is IEBC favouring the use of electronic register only?
IEBC believes electronic identification of voters curbs impersonation and ensures that only those who are registered to vote are allowed to do so.
Chief executive at IEBC Marjan Hussein says the choice of a digital register over a physical one is to "prevent certain malpractices that were actually there before."
Using a physical register involves crossing out the names of voters as they cast their votes. IEBC says this presents a loophole for manipulation since its officers are able to easily know who has not voted.
"It is possible that the ones that are remaining (those who don't turn up to vote), they (manipulators) start entering the IDs into the Kenya Integrated Election Management System (Kiems) and give their would-be voters ballot papers to actually go and cast," says Mr Hussein
This loophole, Mr Hussein says, is what the Commission is trying to curb by phasing out a manual register.
"That way, the presiding officer will not have visibility of who has not voted or their ID numbers because the Kiems kit will only show the count of who have voted," he explained.
Mr Hussein says biometric identification will also hedge against blocking out voters whose identity cards or passports failed to match government records because of possible transposition and transcription errors.
IEBC safeguards in case of system failure
IEBC says it will have backup Kiems kits in each and every ward to take care of any breakdown in the system.
According to Mr Hussein, IEBC will have more than four backup kits in every ward "because we have about 44,000 we used in the last general election plus 14,100 we have bought."
"If a kit fails, it means we can be able to replace it with a working kit. All we need to do is to remove the SD card from a failed Kiems kit and insert in the new kit," he explained.
IEBC's history with Kiems kits
Challenges were experienced in the previous election when some of the machines failed to work.
IEBC blamed this failure on "inadequate training (of officers) and running out of battery charge." In such cases, the polling officials carried out verification of voters using the manual register.
Raila and Ruto's concerns
Raila's chief legal adviser Paul Mwangi argued that the law requires IEBC to have a complementary mechanism that was not electronic, contrary to submissions by Mr Hussein that two court judgements had barred them from having a manual register.
"Someone can go to court and say the election was unlawful," Mr Mwangi says.
Ruto is okay with the use of a digital register but says IEBC must give him and his coalition sufficient safeguards that an electronic register will function "without any chance of failure."
Raila says a manual register is necessary to counter-check in order to know how many people voted in which particular polling station.
"That's why we're insisting on the manual register to be used as a backup and it's either that or never," says Raila.
Compiled by Patrick Alushula.