Why we ordered SIM verification and how it shall be done, Chiloba clarifies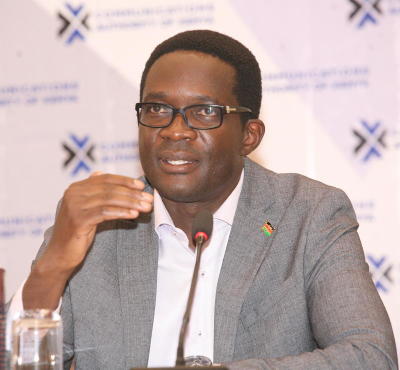 The Communications Authority of Kenya CEO Ezra Chiloba has clarified their reason for ordering SIM card re-registration and how he plans to do it without disrupting Kenyans' daily routine.
His clarification came after a three-day-long uproar where Kenyans were angered by the ICT regulator's directive requiring them to register their SIM cards afresh.
Speaking during a press conference in Nairobi today, Chiloba said that the regulator's move was informed after an inspection in 22 counties revealed some malpractices.
"The requirement to update subscriber registration details is being done primarily to protect consumers of telecommunication services – who is you and me. Incidences of sim-boxing, financial fraud, kidnapping, terrorism and related crimes prevail in situations of compromised sim card registration processes. How can we win the war against such crimes if we cannot participate by ensuring that we have updated records?" Chiloba posed a question.
Why did CA order verification of SIM details?
Chiloba said that as a result of the inspection, the regulator found out that SIM cards are sold without registration and customers are advised to register later.
Some are sold using another person's ID card or documents.
Others are given for free using fictitious identity card numbers in most cases, therefore not resulting in registration but the sale of the line while others are sold without the presentation of an identification document and no verification is done.
How verification of SIM details will be done
All Mobile Network Operators shall provide a self-verification USSD code and online platform with standardised menus and messages. This means that subscribers do not have to physically present themselves at the operator's customer service centres.
The process shall focus on minimum requirements such as the National ID, service cards for disciplined forces, passports and birth certification whichever is applicable. No pictures are required.
The process is not a fresh registration of SIM cards. It is an opportunity for operators and their customers to validate respective details of SIM registration.
The Communication Authority of Kenya has urged the operators and subscribers to ensure full compliance with the legal requirements of Sim Card registration.
The authority has also maintained that the exercise closes on April 15, 2022, after which it shall provide further guidance on the same.
The law states that telecommunications operators are under obligation to register all subscribers and keep the record of all SIM Cards sold and records of registered subscribers.
The operators are required to amend the records within seven days whenever there is a change to the particulars of a subscriber.
On the back of confusion ahead of April 15 deadline, different reports gave contradicting information in regard to who is supposed to register his or her SIM card.
Certain quarters claimed it's the entire telecommunications market, while others stated only the unlisted customers should seek registration.
Yesterday, CA said not all Kenyans need to register their SIM cards afresh warning that unregistered SIM cards would be switched off by April 15, and their owners risk being fined up to Sh300,000 or serve a six-month jail term, or both.