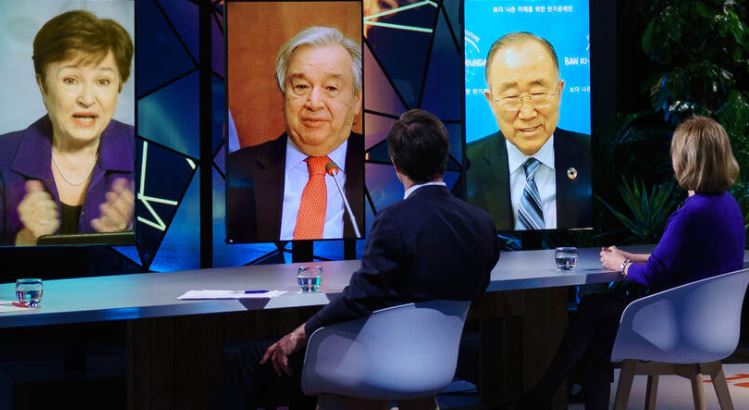 Effects of climate change could worsen by 2030 if countries do not act now, world leaders have warned.
The leaders who were attending this year's global Climate Adaptation Summit hosted by the Netherlands, committed to deliver action to safeguard the world from the threats of climate change, amid a ravaging pandemic.
Through the launch of the Adaptation Action Agenda, the leaders drawn from various sectors said they hope it will "mobilise new and inspiring efforts to advance resilience among people, communities, economies and the environment."
In a decade's time (end of 2030), they also hope it will facilitate a resilient recovery from the COVID-19 pandemic.
Read More
Kenya's President Uhuru Kenyatta who attended the virtual summit at State House, Nairobi re-assured the country's commitment to the adaptation action agenda, calling for the collaboration of the global community.
"Kenya is experiencing the full climate impact including erratic rainfall, drought and increased temperatures and to contain the situation, we have scaled up our adaptation efforts- mainstreaming them into our national development strategy," Uhuru said.
The president also acknowledged that climate change is a reality that must be dealt with now, whose success could lead to "reduced emissions, spur economic growth and social and environmental benefits."
What other leaders said
African leaders present at the summit called for the inclusion of the continent, claiming it had been fleeced in the past.
"Africa has been shortchanged by climate change and it should not be shortchanged by climate finance," African Development Bank President Akinwumi Adesina said.
As such, African countries are set to benefit from the $25 billion Africa Adaptation Acceleration Program (Sh2.8tr) -a project of the African Development Bank (AfDB) and Global Center on Adaptation (GCA) aimed at scaling climate adaptation across Africa.
Former United Nations Secretary General Ban Ki-Moon challenged others leaders to approach the climate crisis from both a political and moral perspective and save the planet. "The world has a golden opportunity to recover from our health and economic crisis by accelerating adaptation and we must seize it."
UK's Prime Minister Boris Johnson averred that this is the year the world fights back, not just climate change but also its effects.
"If we fail to act in 2021, then by 2030 the annual bill for adaptation in developing countries alone will have reached as high as 300 billion dollars," the UK PM said.
The United States regretted that it had been out of the climate action picture for the past three years but was now geared towards stimulating change.
"It's now cheaper to minimize damage than clean up. The best climate adaptation is to treat the crisis as the emergency that it is," John Kerry, US Special Presidential Envoy said.
Other world leaders including UN Secretary General Antonio Guterres, various Heads of State also attended the summit.