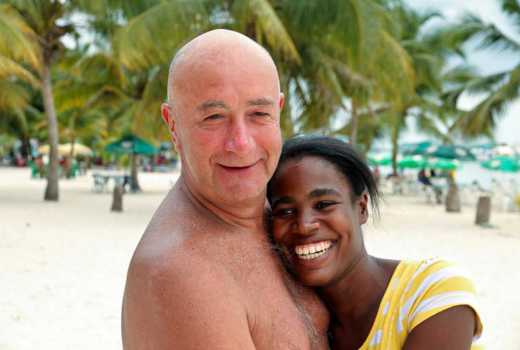 A couple of weeks ago, there was buzz on social media when a mzungu exposed Kenyan women's thirst for white men. The guy had posted on a popular Facebook group that he would love to get himself a beautiful Kenyan queen. Hundreds of women invaded his inbox, hoping to land that once-in-a-lifetime chance to emigrate to a white country.
But it turned out the guy was only gathering scathing evidence and proceeded to broadcast screenshots of the women throwing themselves at him. What a disaster! Even married women and those engaged for marriage in a matter of weeks reportedly offered themselves to the man.
It's amazing and sad that Kenyan women still suffer from inferiority complex, believing that white skin is the solution to all their problems. A black brother will have to work thrice as hard to land the same girl compared to an average white geezer.
You will see very young women, some even in their teens, strutting half-naked along streets in broad daylight in the company of old miserable mzungus, who look like they are just a fart away from wearing adult pampers. What the women fancy in these men still beats me.
These are the kind of men that wouldn't attract as much as a glance from women in their countries. But our black sisters just want a white man. Age, status or anything else for that matter doesn't seem to count.
It's not like these mzungus are rolling in dough. Most have worked hard, in miserable jobs, all their lives to save enough for just that one trip to come and see a zebra in the Mara. So they come here armed with their savings and low self esteem hoping for a melanin queen to make them feel whole again. And our desperate ladies willingly lick those calluses in the hope of a good life.
But since the mzungus had to break their backs for the money, our poor sisters pay dearly for every cent spent on them. They did not save all their lives just to have their cars parked at the same garage every night. And thank goodness for the Viagra; socially questionable sex styles, venereal diseases and public humiliations will be the order of the day for the Kenyan women. I almost barfed recently when this eighty-something year old stuck his tongue down some very young cute woman at a supermarket queue. These men would not dare to pull such stunts in their countries. So, they drag their filth here because we don't have the moral backbone to uphold laws.
Ladies, there is nothing but endless trouble when dating foreigners. I don't know what you even see in these guys. They are not even physically appealing compared to what we have at our disposal locally. Kenyan men drip of chocolaty goodness and there is zero chance of them chaining you to their basement and turning you into a sex slave. Yeah, I know you might need to put in a bit of work on some of our local men, but it won't be as bad as the embarrassment these old geezers will cause you.
Believe me; everything you want is right here in our country. There is a lot to choose from, depending on your ambition and dedication. Some women are gifted with luxury cars and mansions right under our noses by our very own fine local men. Unless you are looking for caramel babies, I don't see a reason for you to suffer these foreign affairs.
Believing that crying and having a terrible life abroad is better than being stuck in Kenya is totally idiotic. I understand there is no formula to happiness in relationships, even the poorest Kenyan man will one day make you cry. But I don't think life is really that good out there. Don't be misled by the pictures you see on social media. Nothing ever comes easy in this world. Tame your greed lest you end up servicing dogs in a foreign country.
Related Topics