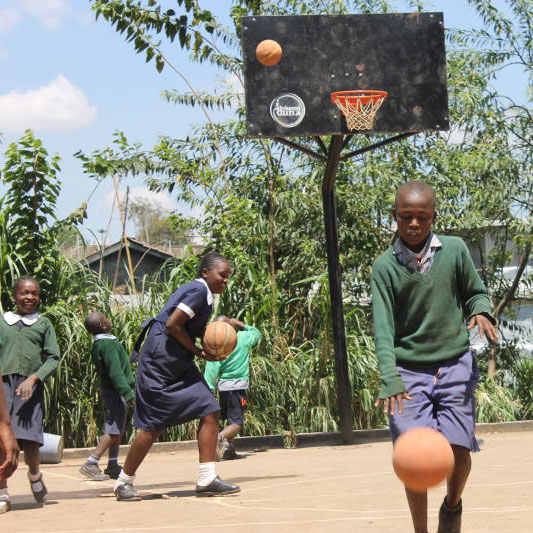 Children of Whynot Junior Academy in the Mathare 10 play basketball in a refurbished court which was initially an open defecation site but has since been renovated. 19 November 2014. PICTURE: JECKONIA OTIENO
Residents of Mathare are turning around their lives and reclaiming what previously had served as an open-air toilet.
The residents have converted a once faeces-filled ground into a basketball court to nurture and develop sporting talent.
The ground near Whynot Junior Academy is no longer dotted with human waste and is now a most welcome recreational area. The development came in the wake of the World Toilet Day. According to a 2012 World Bank report, about 6 million people in Kenya do not have ablution facilities, forcing them to answer calls of nature in the open.
Caroline Awuor, a Mathare resident, says that, "Things are not so bad today. We used to tiptoe around this area to avoid stepping on human waste," she says.
Awuor says the use of 'flying toilets' was also rampant. Flying toilets are plastic bags laden with human waste which are flung out of windows at night or early in the morning. "The flying filthy missiles often landed on passersby, neighbours' doorsteps or on the roofs," Awuor explains.
In 2010, however, the total sanitation programme in Mathare supported by Plan International in cooperation with the defunct City Council of Nairobi and the Ministry of Health was initiated.
An estimated 200 community volunteers began sensitising residents of Mathare 10 section on the dangers of open relieving themselves in the open. Claris Akinyi, a community volunteer who resides in Mathare, is pleased with the programme and commends it for significantly contributing to people's attitude and behaviour change.
"The programme aims to stop open defecation by focusing on behaviour change," explains Charles Ngira of Plan Kenya's urban programme.
Ngira adds that, "The programme uses the three elements of shame, fear and disgust to drive the point home. When you tell people they are eating their own faeces that alone will be so disgusting to compel them to stop defecating in the open."
Related Topics