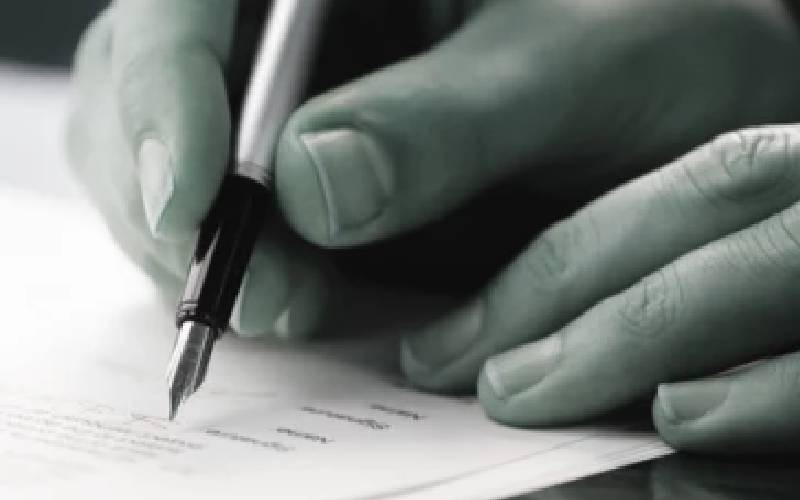 Take your mind back to the latest thing you've written. Maybe, it was a message to a friend, a work document, or a simple shopping list. Did you type it? Or did you use a pen?
The decline of writing by hand, particularly among children and young people, has been in the news.
As we edge towards phasing out paper and with technology transforming how we learn, work, and live, what place does handwriting have in the modern world?
Neuroscientists and psychologists tell of a link that runs deep between handwriting and general educational development.
Children learn to read faster when they first learn to write by hand and can better form ideas and retain information. Study shows that it's not just what we write that matters, but how.
Educators agree. Mrs Pamela Mang'oli, the headteacher of Kariobangi South Primary School, says although good handwriting is not the sole measure of intelligence, it can have psychological and performance benefits.
"If handwriting is not good or clear to read, it attracts negative stigma. Further, teachers marking composition and other forms of creative writing may be turned off by it, consequently awarding a student a lower grade. This has a ripple effect on overall performance and perception of the student," says Mang'oli.
"When a child writes well, the teacher has an easier time going through his or her work," says Catherine Mwanziu, a teacher in the same school.
A study by Virginia Berninger, a neurologist at the University of Washington, demonstrated that a unique neural circuit is automatically activated when we write by hand.
Angela Webb, a psychologist and chair of the National Handwriting Association explained that this neural effect is because engagement with the physical environment activates particular areas in the brain, stimulating cognitive development needed for educational literacy.
In the study that followed children in grades two through five, the psychologist revealed that cursive writing, printing, and typing on a keyboard display different and distinct brain patterns, each with a different end product.
Writing by hand, the children produced more words quickly, generated more ideas, and expressed their thoughts better and efficiently.
Brain imaging in older students displayed that better working memory had increased reading and writing networks.
Based on these findings, BIC partnered with various public schools to help students develop penmanship skills through creative writing under an initiative dubbed My Words, My Story, My BIC Pen in response to a finding that poor handwriting attracts negative stigma.
The 26-day course across 35 primary schools in the country sought to help 12,000 students transition comfortably from using pencils in lower primary to using ballpoints in grade four.
"Participating students wrote a creative story using BIC pens to become more comfortable with the feel and movement of a ballpoint," said Paloma Lengema, marketing manager of BIC East Africa.
Abigail Kerubu, aged 10 and in grade four, said, "my handwriting has improved so much during our training. We practiced and practiced, and I am happy to say that now that my handwriting is better, I am ready to use a pen."