Kitivo primary gets internet connectivity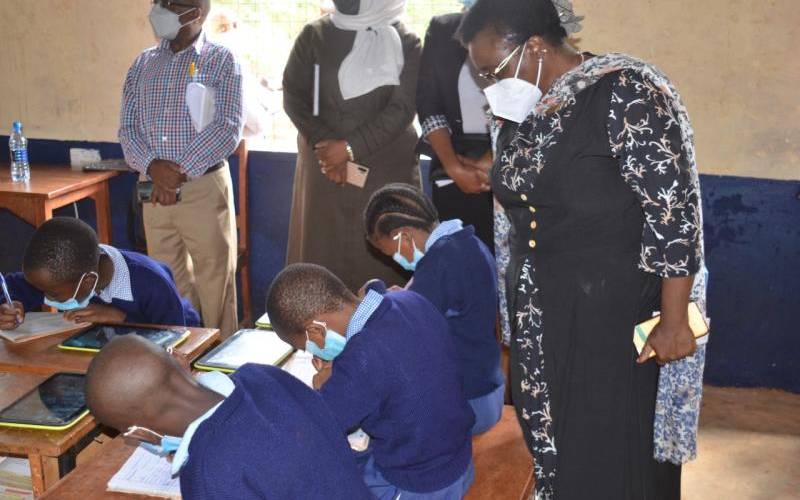 Kitivo Primary School in Mwatate Sub County has become the first rural public learning institution in the Coast region to access the internet.
This has been made possible through the Schoolnet connectivity project aimed at spurring digital learning in the country.
The school with about 1000 students is among 13 schools that have been piloted as part of the initiative.
Principal Secretary for Implementation of Curriculum Reforms Prof Fatuma Chege on Tuesday said over 1,500 schools have been earmarked under phase one of the Schoolnet connectivity project.
The project is being implemented by a partnership of the Ministry of Education, ICT, ICT Authority, UNESCO and Huawei.
Speaking at the school when she launched the project, the PS said the internet services have come as a new dawn for those who have always struggled to catch up through traditional learning.
"It offers learners an opportunity to get access to expertise and sources of knowledge that would have otherwise been considered out of their immediate environment. Learners can now get authentic information through activities and interaction with intellectuals and fellow learners from other parts of the World," said Ms Chege.
The PS said the government has made great strides in rolling out ICT infrastructure across many parts of the country.
"Today there is broadband infrastructure presence in all the 47 county headquarters that is currently being used to access government services," she said.
She said in addition, public primary schools have been issued with digital learning devices, a decision that was born out of the vision and context that technology now defines the world and there is a need to prepare learners for today's realities of the future.
Her sentiments were echoed by Mwatate Deputy County Commissioner Damaris Kimondo who said the county has had a 98 per cent transition rate in primary to secondary schools.
"We have ensured that all who sat for their Kenya certificate of primary education examination join to form one," she said.
Deputy governor Mlagui said Mwatate town had been elevated to a special municipality, adding that the implementation of the project will add value to the local population who will be accessing digital services.
She said access to digital learning will not only improve the standards of education but also help transform the lives of the local community.
"With digital migration, we should however be careful to ensure that students' minds are not corrupted by the negative effects of cybercrime," warned the deputy governor.
The county has 218 public primary and 88 secondary schools with 54 private primary schools.