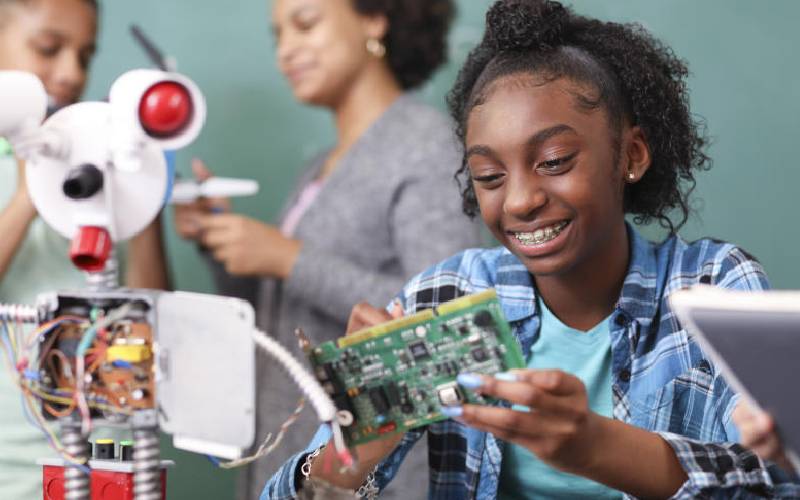 Would Albert Einstein, the German-born theoretical physicist whose genius eternally changed the way we view space and time, have made his discoveries if he were in the age of computers?
Would Isaac Newton wonder to himself why an apple falls and if the moon too does fall if he had an account to keep him busy on Instagram? Can we be as curious, and thus as explorative, with social media and other forms of technology that perennially occupy our minds?
Does social media impede worker's ability to think and be creative?
Martin Mungai, a national trainer and science, technology, engineering, and mathematics (STEM) coordinator at Centre for Mathematics, Science and Technology Education in Africa (CEMASTEA), said that technology cuts either way; it can be constructive as it can be destructive.
"Technology is an important thing to have as it helps us access some worlds we would probably never come across," he said. "But we also know that it could be misused to cause harm."
One of the most harmful impacts it would have is to turn otherwise gifted people into something of unimaginative ones. Workers could find themselves unable to think outside what the internet gives them. However, the same internet could be the panacea to unimaginativeness, creating a world of ideas and guiding people on how to go about such ideas.
In the information age, access to the internet and use of top search engines to unearth an infinite number of results has made people either too knowledgeable or too misinformed. But has technology led to a population that can no longer think beyond what the internet gives, or who cannot advance innovation from what our innovators of yore developed?
"Not so," says Mungai. "Innovations do still happen every day. They will continue happening only that time to make them is now shorter and the options infinitely wider."
With social media birthing content creators and other artistic careers where people make money easily, it has been a concern of many in the academic circles that science courses will be shunned and with them, creativity and innovations to drive humanity into a new age.
There is a worry that the future worker will be average, with no ability to invent; largely dependent on systems that have long been in existence.
"We are trying to introduce STEM as a fundamental part of science education, demystifying it and inspiring our learners to create and innovate," Mungai says.
As such, he revels in the role of helping teachers develop skills that guide learners into becoming critical thinkers. CEMASTEA has developed programmes that help teachers develop a kind of thinking that enables them to create innovators out of their students. They ensure that the students have a deep and solid understanding of theory and practical application of the same.
And internet technology is a big part of this.
"The internet technology offers platforms that help people see what is happening around them. Only then can they know where to focus their energies," he says.
Workers have had it easier with technology, but is it reducing their creativity? Is reliance on formulas seemingly cast in stone, with computers dangerously accurate, eliminating the need for workers to think outside the box?
Shadrack Kirunga, who is a deputy registrar at The Multimedia University of Kenya, says that the world is moving closer to an era in which a lot of countries will be technology-based economies.
Will the entry of artificial intelligence and robotics make workers more creative?
There is a problem, often caused by a cultural lag. "Culture has physical and non-physical elements that must develop together to prevent a lag. This lag is occurring because technology has grown much faster than the ability to create rules that manage it," he says.
Consider someone seated in his house in rural Kenya and logging into Facebook where he can access information posted by a user in Atlanta, Georgia. The user in Kenya could launch a verbal attack on a complete stranger, which Kirunga says happens because we lack commonly agreed rules that could be used to punish such a person here as they would be punished in the United States.
He also says that while it helps create innovations in many ways, technology has muffled creativity in others.
"In the village, children who do not have access to electronic devices and the internet still go to play outside, making and breaking toys, moulding things in clay and gaining a sense of self-dependence," he says. It is these children who went on to better workplaces by inventing systems and machines and improving others.
Besides, the interaction between people, which he says makes us become better people, have been affected.
"We now have a challenge of digital versus real identity. Are you communicating with a human being or is it a bot? Is it a young man or an old man? Because technology has made it possible to create a false identity that can transact without being discovered," he says.
Just recently, in Spain, a celebrated woman author, prior to a shocking prize-giving encounter faceless, was discovered to actually be three men.
During an event to award the country's prestigious Planeta literary prize, the famed but reclusive crime novelist Carmen Mola was actually revealed to be the creation of three male writers, reported NPR.
Antonio Mercero, Agustín Martínez and Jorge Díaz created a series of highly successful novels in Mola's name. That was technology helping people completely conceal identity and get away with it.
There is also an argument that society is now bringing up emotionally and physically weaker children who are not able to battle as hard to make discoveries and survive adaptation unlike their ancestors.
It is argued that some of these people buckle under minimal pressure in workplaces, unable to withstand small challenges their ancestors rode with grace.
"We have long had patriarchal societies in which boys are not supposed to show signs of weakness, with any display of emotions seen as weakness. Muffling these emotions is actually a weakness," says Mungai.
Other arguments that abound tend to dismiss the idea of constantly rewarding children, with a common one children graduating from preparatory classes and into lower primary wearing mock graduation gowns.
"This, for me, is a way to motivate them. It is positive reinforcement. We make them feel good about it and may be they want to work hard because they now want to get there and wear the real gown," says Kirunga.