Raila Odinga backs CS George Magoha on CBC rollout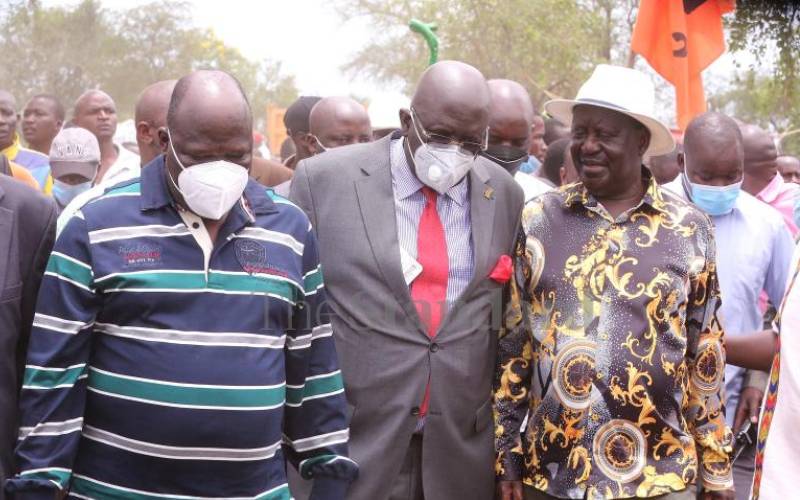 ODM leader Raila Odinga has backed the Competency-Based Curriculum (CBC), saying it holds the solution to the country's education system.
The former prime minister, who presided over the groundbreaking ceremony for the construction of Raila Odinga Secondary School in Nyando, Kisumu County, yesterday, said the ongoing debate on the new curriculum is healthy.
He said countries such as Rwanda, South Africa and Tanzania, among others, have already adopted the curriculum, as it promotes critical thinking, communication, teamwork, leadership, professionalism, and information and communication technology.
"I know that ultimately we are going to find an amicable solution to issues raised on the curriculum. We understand that human beings are generally a conservative animal, and can sometimes be resistant to change," said Raila.
Education Cabinet Secretary George Magoha, who accompanied Raila at the event, said the government has already spent Sh58 billion on CBC, and is on course with the implementation of the curriculum, as well as pushing for 100 per cent transition.
"Even though the matter is in court, the government must continue to work," Magoha said.
He said the government is planning to construct 20,044 classrooms before April next year, which will be used by the first lot of CBC students joining junior secondary school. He said the project will cost Sh16 billion.
The CS said the construction of Raila Odinga Secondary School will capture the new system, as it will host both junior and senior secondary school learners.
He said with schools set to reopen next week for second term, the government has already disbursed Sh17.5 billion capitation.
Out of this, Sh15.75 billion will go to secondary schools, while the rest to primary schools. The CS warned headteachers against turning away any learner because of school fees.
The school is being constructed by the Third-way Bureau China Construction Limited as part of Corporate Social Responsibility.