Top students pick TVET courses as 465,765 can't be accounted for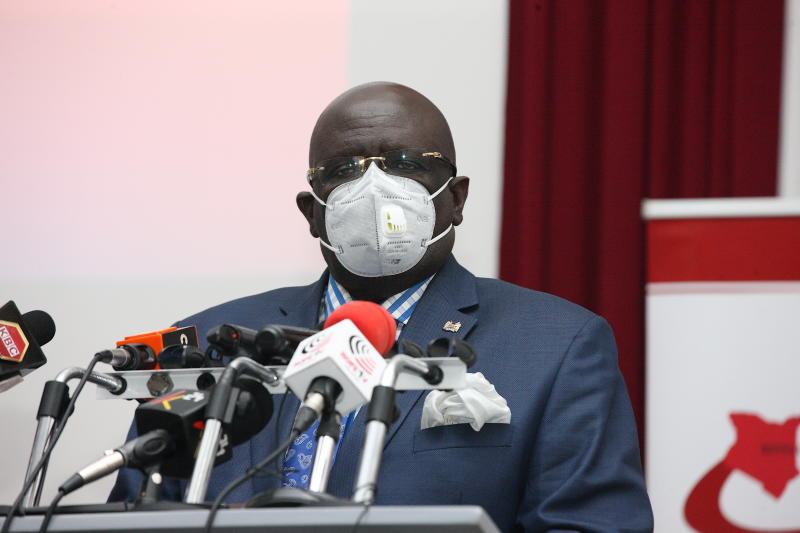 Nearly 500,000 students who sat last year's KCSE examination have not been placed in any course.
Data released by Education Cabinet Secretary George Magoha show that 271,762 candidates have managed to secure degree, diploma and certificate courses, exposing the plight of the rest of the learners who sat the examination.
Of these, Prof Magoha said 134,690 were placed to pursue degree programmes across the 70 public and private universities. Another 137,072 will be enrolled in the Technical and Vocational Education Training (TVET) institutions.
This means that out of the 737,527 candidates who sat last years' national examination, 465,765 cannot be accounted for as they were not placed at all. This comes as Magoha accused 8,000 high school principals of killing the dreams of their students by not submitting their applications to the national placement agency.
He said out of the 10,437 schools that presented candidates to sit last year's national examination, only 2,505 helped their students to make course applications.
Consequently, 579,842 candidates who had paid the requisite fees of Sh500 so that they can be considered for university or college courses were failed by their principals who did not submit their applications.
Meanwhile, 6,617 who had qualified for university forfeited the slots and opted for TVET colleges. Among those who applied to join TVETs is a candidate who scored A. Data shows 19 other candidates who scored A– also applied for courses in TVET. A majority (5,023) scored C+.
Magoha attributed this to the reforms the government has been implementing in middle level colleges. "I am happy to note candidates who qualify for university admission are increasingly embracing TVET courses," he said.
The large number of students missing university and college slots contradicts the governments' policy on 100 per cent transition, which has been in place for the last four years.
While releasing the KCSE examination results early this year, Magoha said President Uhuru Kenyatta had directed that the 100 per cent transition for higher education be implemented.
Consequently, he asked the Kenya Universities and Colleges Central Placement Service (KUCCPS) to engage with higher education regulatory bodies – Commission for University Education (CUE) and the TVET Authority – to ensure all learning institutions are prepared to enrol the candidates.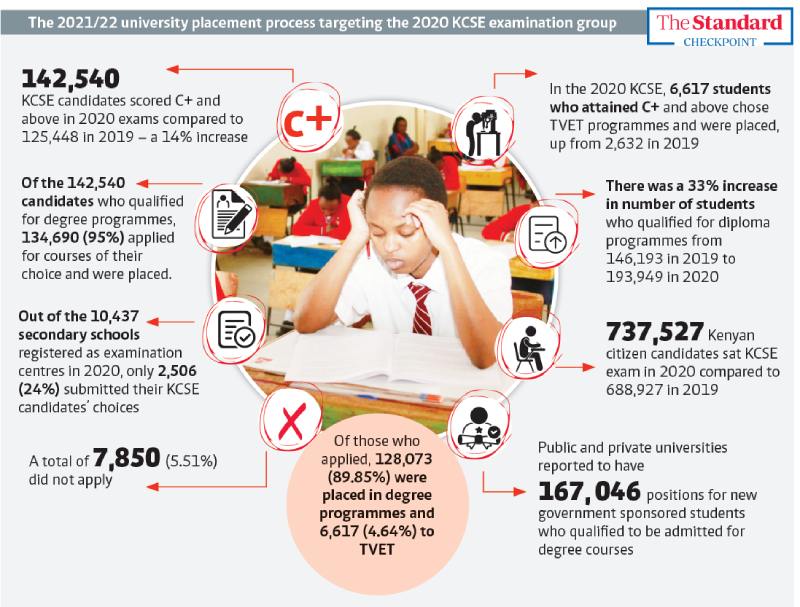 Magoha said the government has a duty to nurture each of the learners to pursue their dreams regardless of how low they start to the very top of the academic ladder.
"I am therefore proud to announce that we have created opportunities for academic progression for all the 747,161 who sat the 2020 KCSE examinations," he said then.
With enough admission places created, the question therefore is the whereabouts of these candidates whose fate seems to hang in the balance. This is because all students who sit KCSE examinations have opportunities to progress to the next stage of learning.
Students with a mean grade of C+ and above qualify to pursue degree courses while those with C and C­–, qualify to pursue diploma as D+ and D qualify for certificates. While those with grade D– and E qualify for artisan courses.
Data released by Magoha reveal that universities declared a total capacity of 167,046 places while TVETs indicated they could accommodate 308,339 students.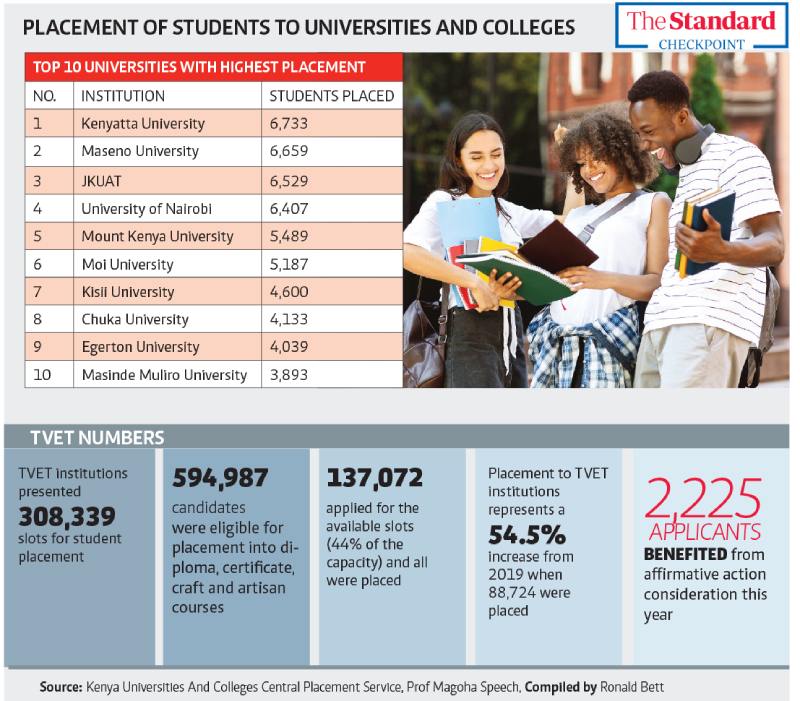 This means the institutions have a total capacity of 475,385, yet only 271,762 have been placed. Insiders however said the elephant in the room is the funding of the students who will require billions of shillings to sustain.
Calculations reveal that for university education alone, the government would require a total of Sh25.8 billion if the 143,140 students who attained C+ and above are admitted to universities.
Out of this, Sh20 billion would be sent to universities as capitation, given that the average capitation amount the government spends on each student per academic year is Sh140,000.
Higher Education Loans Board (Helb) chief executive Charles Ringera said the Fund will require Sh5.8 billion to cater for all the students who will join universities.