Admission nightmare for form one parents as students report to school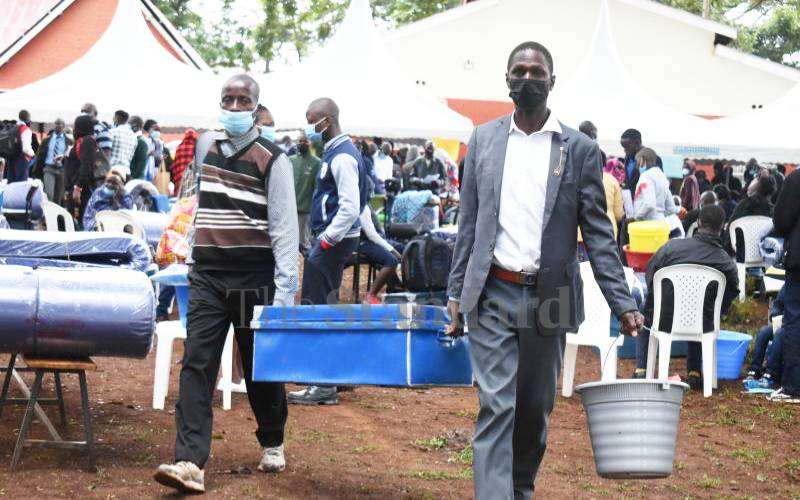 Long queues in schools marked the start of Form One admissions as some parents were shocked after being denied places. Parents said after bearing long lines, their children were denied admissions for having low marks even after the learners were placed in those schools by the Ministry of Education.
Others had been conned thousands of shillings in an admissions racket that targeted prime schools. Sources at the ministry revealed that a number of students were turned away after their parents paid money to secure admission letters whose data were not captured in National Education Management Information System (NEMIS).
Principals also reported that some parents turned up with fake admission letters.
"They were lied to by unscrupulous persons purporting to secure them slots in certain schools. When they repotted to schools it emerged that they were fake letters because the details were not captured in our list," said a teacher.
Basic Education PS Jwan Julius said parents should ensure their children proceed to schools they were selected to join.
Chief Administrative Secretary Sarah Ruto also said students must be admitted in schools where their details have been captured.
"Only students who appear on the current NEMIS list of a school will be admitted there. Where parents/guardians applied for change of placement and was accepted, the same has been effected in NEMIS," said Dr Ruto.
Denied places
National Association of Parents chairman Nicholas Maiyo said that even after Ministry of Education placed students, some were still denied places.
"Some parents complained that some schools insisted that they do not admit students with marks below a certain range yet those children were placed there by the Ministry," said Maiyo.
PS Jwan however said that all children must be admitted in schools they were placed.
"No child should be denied chance in any school and that is the government directive," said Jwan.
Dr Ruto however cautioned that students who are not able to take up their places on the stipulated opening dates risk losing their slots if they do not inform the schools in advance.
1,171,265 students were selected to join secondary schools. Speaking after monitoring admissions in Kiambu and Nairobi, Dr Ruto said no school will admit a learner in the system who has not physically reported to the school.
Dr Ruto said all deferred admissions will be done offline and processed later. "The County Director of Education must ascertain all such cases beforehand."
Secondary school heads association national chairman Kahi Indimuli said any child placed in any school through normal selection must be admitted there.
"We have an obligation as principals to admit that child because they were formally placed there. Unless they are coming for replacements where the principal may refuse the transfer," said Indimuli.
In some schools, students whose parents did not pay all fees for entire term were sent away while those who did not pay additional levies were frustrated.
Maiyo said that fees guidelines were flouted despite directives by Magoha and Teachers Service Commission Chief executive Nancy Macharia.
Some schools were charging Sh10,000 remedial teaching fees before admission.
"We received complaints that parents who had not paid some levies or did not produce bank clips for some levies were frustrated. Others were forced to buy school uniforms from the schools which were expensive," said Maiyo.
"We expect parents to at least pay full first term fees," said Indimuli. He added some schools demand purchase of uniforms from one supplier for quality purposes.
"After traveling long distances, they did not get proper reception. The admission process was too slow with parents having to seek accommodation to complete the process next day," said Maiyo.
"Admission and orientation must be elaborate to enable the learners settle down," said Ruto. Speaking at Kenya High School, Ruto said studies have shown that learners who are inducted properly have a higher completion rate.