Short courses give school dropouts new lease of life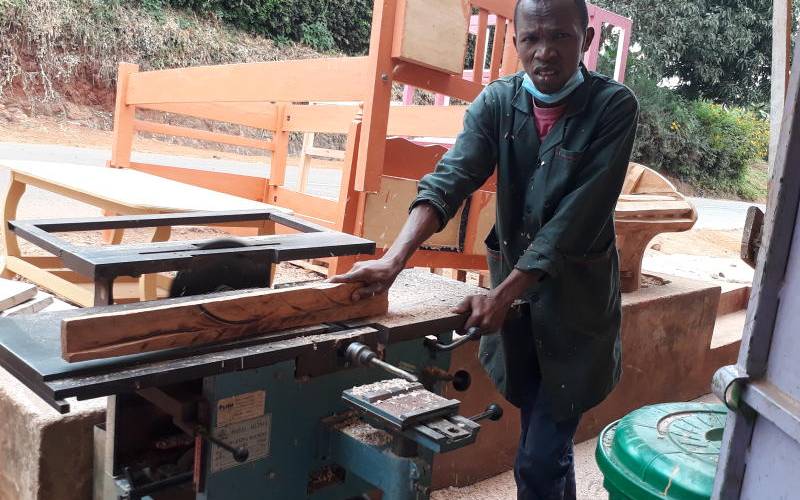 More than 25,000 youth have gained trade skills by enrolling for short courses, years after dropping out of school in Murang'a County.
Henry Manyeki, 29, graduated from Gaitega Polytechnic in 2017 after pursuing a carpentry course for six months and moved into construction sites. He then raised enough capital to establish a business.
Today, Manyeki is among qualified artisan graduates earning a living in construction sites and making household furniture.
He dropped out of school at Standard Eight at St Mary's Primary School after his parents were unable to pay for his secondary education.
"I did odd jobs in the village, where I earned Sh200 a day for years. But I found an opportunity for free training after the county government structured a 'Ufundi kwa Vijana' programme, targeting youth from humble backgrounds," said Manyeki.
After completing the course, he teamed up with Jesse Mwangi and opened a carpentry workshop in Kiharu estate, Murang'a town.
Last year, despite the Covid-19 pandemic, the partners went separate and Manyeki opened another workshop.
"I am pleased with the training I got from my instructors. Today, My Classic Digital Furniture is a household name in the estate," said Mwangi.
Kiharu Estate is home to a section of National Police Service officers and hundreds of students at Murang'a University of Technology.
James Mwangi, a plumbing student at Kirwara market, said he is determined to learn as much and turn around his fortunes.
"I am happy that I am pursuing a course that I have an interest in. I also hope to secure employment or set up my workshop to serve people," said Mwangi.
Governor Mwangi wa Iria said more than 60 polytechnics in the county offer 28 short courses, including hairdressing, motor vehicle repairs, masonry, plumbing and electrical installation.
He said the training programme was introduced to impact skills on hundreds of youth who had dropped out of school and lack certification in the different trades they are engaged in.
"The short courses have improved the living standards of hundreds of the youth, especially those interested in construction and beauty," Iria said.
The governor said the county government had spent millions of shillings to pay instructors and equip the learning centres.
The programme has also rescued hundreds of youth from alcoholism, substance abuse and petty crime. The programme is handled by Education and Technical Training Chief Officer Isaac Njai.
Gaitega Polytechnic Manager Martha Njeri said some learners have furthered their education to the level of being registered as instructors.
Polytechnics, she said, provide learners with training and practice opportunities, which many institutions miss, adding that they direct the employers on whereabouts of their former students.
Njai said there are 7,151 continuing students in the 65 institutions. Another 3,500 are under the 'Ufundi Kwa Vijana' programme.