UASU gets new national officials, first female chairperson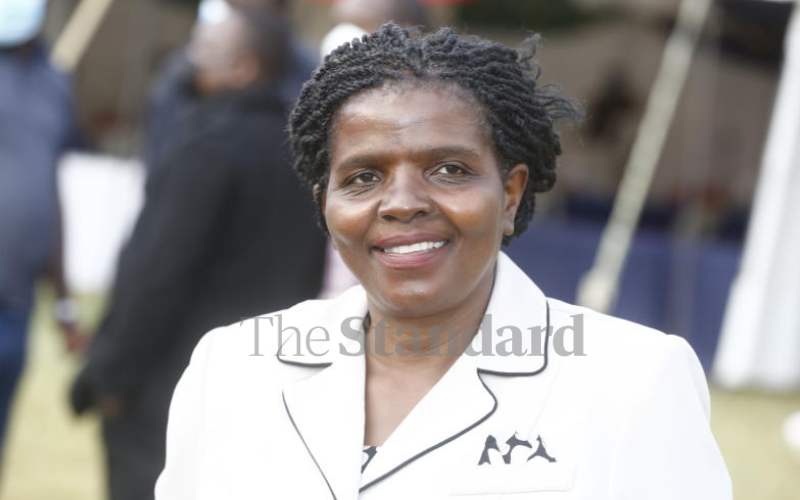 The University Academic Staff Union (UASU) has a new set of national officials following an election at a National Delegates Conference held in Nakuru Town today.
Grace Nyongesa of Kisii University has been elected the union's national chair, taking over from Dr Muga K'Olale, who has since retired and did not defend his post.
In her acceptance speech, Dr Nyongesa vowed to be a tough unionist like her predecessor, who, she said, gave the government hard time in labour negotiations.
"My predecessor was tough but I promise to be tougher. I am glad to be the first female chairperson of this trade union," said Dr Nyongesa who is also a practicing lawyer in Nakuru.
She will be deputized by Mr Cyprian Ombati.
Muga K'Olale who was elected as the Union chairman during a 2016 delegates conference in Kisumu urged the new chair to steer the union to greater heights.
"I am leaving this union with my head high. I have never been compromised despite the many temptations. I urge the new office not to be ethnocentric. Be professional and stand for the ideals of UASU," said K'Olale.
In the elections supervised by officials from the Ministry of Labour, the chairperson's position had attracted three contestants; Mr Muiga Rugara, Dr Nyongesa and Dr Richard Bosire.
In the previous leadership, Mr Rugara of (JKUAT) was the UASU National Organizing Secretary.
Dr Nyongesa was the union's Kisii University Chapter organizing secretary while Dr Bosire of the chapter chairman at the University of Nairobi.
Dr Constantine Wasonga, the union's National Secretary General retained his seat in a grueling battle with veteran unionist Prof Kwashe Kubasu of Masinde Muliro University of Science and Technology (MMUST).
"We are sending a warning to the Salaries and Remuneration Commission (SRC) that we are coming with even more negotiations," said Dr Wasonga.
Jacob Musembi will be the new national deputy secretary-general.
The post of National Treasurer currently held by Dr Janepha Kumba attracted two other contestants; Dr Alice Lunanu who chairs Chuka University chapter and Dr Daniel Kirui of Moi University.
Dr Kumba trounced her opponents to retain the seat for another five years assisted by Weldon Keter.
National Organizing Secretary post went to Onesmus Maluki Mutio.
Among the issues, he vowed to push for the government to address include promotion of dons, non-contributory medical scheme, workload, car loans and mortgages.