We shall push for teachers new CBA, new KNUT boss says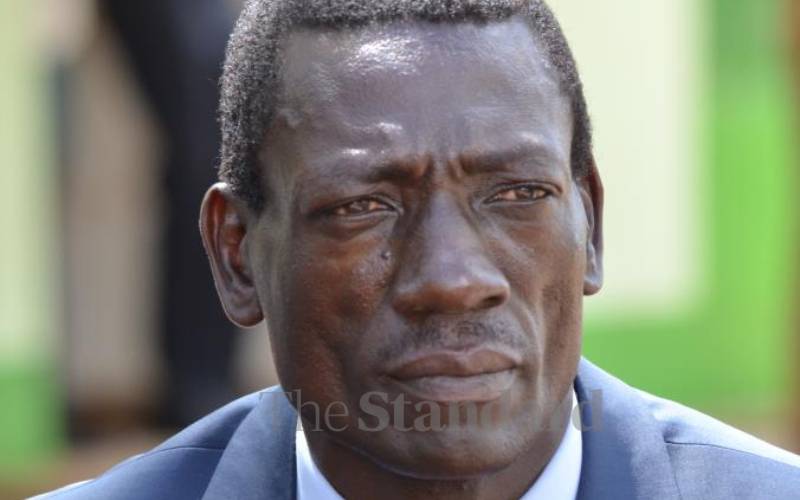 Knut Secretary General Collins Oyuu has said the union will press for teachers' salary increase during a meeting with the employer.
The Teachers Service Commission (TSC) has called newly elected Knut officials to a meeting to discuss industrial relations between the two bodies that had deteriorated.
"As I speak now, I have a letter from TSC inviting us to a meeting so that we can harmonise industrial relations and also discuss other issues of mutual benefit to teachers," said Mr Oyuu.
The newly elected official said one of the issues that will be put on the table is the Collective Bargaining Agreement (CBA).
He said as the Sh54 billion CBA lapses, teachers want to see a new pay increment plan.
"Teachers' immediate concern is what next after the lapse of the present CBA and we have a duty to ensure that this is negotiated and agreed upon with the employer," said Oyuu.
He was speaking during an interview on KTN News.
Teachers had been expecting to get new terms for the 2021-2016 CBA.
Both Knut and Kenya Union of Post-Primary Education Teachers (Kuppet) had separately presented their salary proposals to inform negotiations with TSC.
Kuppet had pitched a salary increment of between 30 and 70 per cent for the new 2021-2026 while TSC is reported to have proposed between 16 to 32 per cent.
The Kuppet proposal would see the lowest paid teacher's salary rise from Sh21,756 to Sh36,985 while those in higher cadres under Job Group D4 who currently earn Sh118,242 would take home Sh153,714.
Knut had also proposed a salary increment of between 120 and 200.
The Knut proposal means the monthly basic salary for the lowest paid teacher (Grade B5) would be raised from Sh21,756 to a maximum of Sh87,024 while salary of the highest paid teacher (Grade D5) would be increased from Sh131,380 to Sh394,140.
In a letter to SRC, TSC Chief Executive Nancy Macharia recommended a salary increase of between 16-32 per cent.
This mean that teachers below Grade C4 to D5 would get a 16 per cent salary increment while those in Grade B5 to C3 would get a 32 per cent raise.
"This is therefore to submit to your office the TSC recommendations for your advisory on the remuneration of teachers for the next CBA as required by the Constitution and the law to enable us commence and conclude the 2021-2026 CBA with recognised teacher unions on time," Dr Macharia said.
These TSC counter-proposals were never presented to unions and this means that there have never been any discussions about the CBA, even after TSC wrote to SRC.
In letter dated June 23 to Dr Macharia, Kuppet Secretary General Akello Misori accuses the employer of insincerity in the CBA talks.
Misori says that for more than a year, Kuppet has been waiting for a counter-offer to its demands under the new CBA process in vain.
Kuppet has also asked for an immediate meeting with TSC to streamline the negotiations process.
"The purpose of this letter, therefore, is to communicate our readiness to meet your teams at the earliest possible convenience during the remaining days to the expiry of the current CBA," said Misori.
The new CBA for teachers has been dealt a major blow after the Salaries and Remuneration Commission (SRC) said there would be no pay increments for the next two years.
"There will be no review of the basic salary structures, allowances and benefits paid in the public sector in the financial year 2021/22 – 2022/23," said Lyn Mengich, the SRC chair.
Misori and Oyuu say any delay in CBA talks will vary the increment period to six years from present four.
"If we allow another two year freeze, it means that they will be sneaking a new cycle of salaries negotiations from four to six years and this will be unacceptable," said Misori.
Oyuu said two years will be a long wait for teachers and noted that a plan for salaries increment has to be agreed upon.
He also dismissed SRC statement, saying that unions only engage with the employer.
"SRC may have said their position but in the industrial relations we engage with the employer, which is TSC. And that is what we shall seek to do and make our position clear," said Oyuu.
Kuppet has also asked the TSC to take charge of the negotiations process to its logical conclusions.