How dream to turn school into university made it an empty shell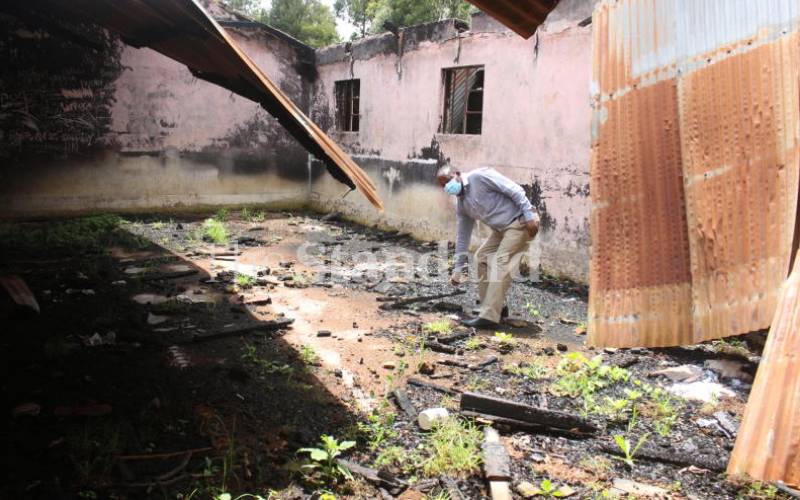 Kiabonyoru High School remains a shell of its former self, six years after Nyamira County Government made a false start to replace it with a public university.
An unfinished condemned two-storey building, dormitories that are in ruins, classrooms having a quarter the capacity of learners and others that are locked tell the sad story of the school, a once top-performing institution in the county.
At the height of the dream for a university, the school lost nearly all its students after the county went public that the institution was being transformed into a higher learning centre.
Sironga Girls suffered similar consequences from around 2017 when news started doing rounds on social media that it would be upgraded to become a university after the Kiabonyoru dream failed.
Unlike Sironga, which fought hard to survive the strong tide, Kiabonyoru suffered immense losses as a result, leading to under-enrollment.
At Sironga, when the fake news hit the school around 2017/18, Form One registration dipped to about 200 learners, down from more than 500 that the institution used to register in previous years.
Principal Eve Odhiambo said the institution went to its lowest even in performance, registering a mean score of 5.6 in 2018. However, the situation has rapidly changed with the school now able to enroll 495 Form Ones and register a mean score of 8.2 in 2020's Kenya Certificate of Secondary Education examinations. This performance was a positive deviation of about 1.8, up from a mean score of 6.4 it had recorded in 2019.
Emerging rumours
"We had to deal with the emerging rumours that the school was going to be a university. Our enrollment is back to normal. In 2020, for example, we had about 500 learners enrolling for Form One," Mrs Odhiambo said.
But Kiabonyoru is still struggling due to the huge negative impact it suffered as a result of the news.
In 2016, according to the school principal Richard Ariemba, when news of converting it to Nyamira University were circulating, the institution dropped in Form One enrollment from the usual over 100 to only 17 learners.
The total school enrollment dropped from over 500 to 94 students in 2016, as did the performance from a mean score of 4.7 in 2015 to 2.3.
This year, however, saw a great improvement with seven students scoring C+ and above. The school mean score also improved from the 4.3 it posted in 2019 to 5.8 in the 2020 KCSE exam, emerging position five in Nyamira North Sub-county.
Amid the struggles, the county government endeavoured to have the school relocated to Getangwa Primary, which is about three kilometres away.
Goodwill
"Politics took centre stage in the university project, leading to withdrawal by the county government. It could not succeed amid the ensuing lack of goodwill from our local politicians," Governor Amos Nyaribo, who was serving as deputy governor then, said.
During its hey days, Kiabonyoru was an academic giant and produced great brains, key among them Interior Cabinet Secretary Fred Matiang'i.
Dr Matiang'i was in the school in the mid-80s amongst many other prominent personalities like renowned banker James Maganda, Dr Charles Moochi and Dr Daniel Omato.
The institution that is sponsored by the Seventh Day Adventist Church was among the region's top performing schools. Currently, it is struggling to repair its own infrastructural facilities. "Our enrollment is low and our fees cannot take care of the institution's immense financial needs," Ariemba said.
The school has never benefited from any funding from the Constituency Development Fund, making it even more difficult to undertake any project. It needs more than Sh60 million for necessary developmental activities, key among them equipping the computer laboratory, renovating accommodation blocks and access to water.