KCSE: Mount Kenya giants make a mark with top honours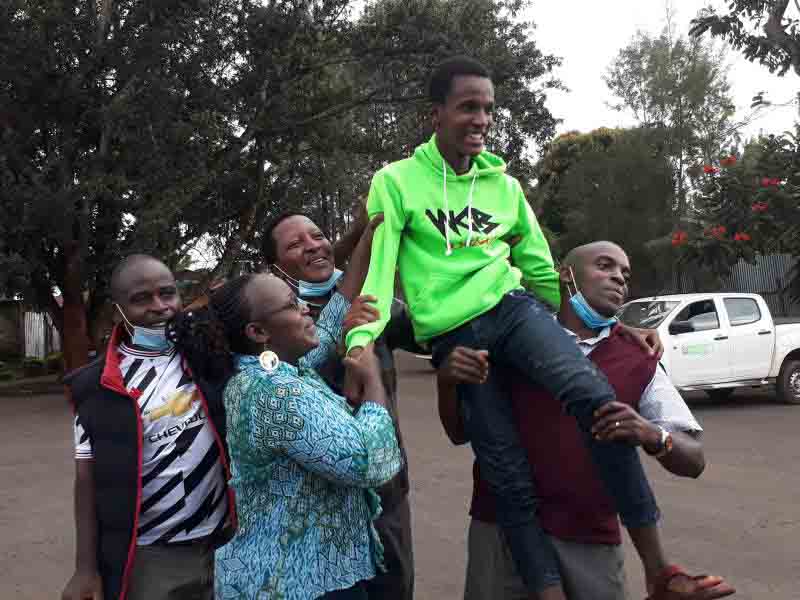 Sleeping education giants in the Mt Kenya region have recorded a rebound in the 2020 Kenya Certificate of Secondary Education (KCSE) exam.
This time, it is the boys who shone, with schools such as Murang'a High, which produced the top candidate nationally, making a strong case for themselves.
This was alongside Nyeri's Kagumo High School, Tharaka Nithi's Chuka Boys High and the regional giants Alliance High and Mang'u High.
Mang'u High continued with its winning streak, with an analysis of its class of 342 showing only six missed university grades. It had 42 students with A plain, 134 A-, 106 B+, 40 B- and eight C+.
Murang'a High produced Simiyu Robinson Wanjala, the top student nationally, and also some of the best performers in the region.
Also making a mark with the top honours was Meru's Kaaga Girls, an extra-country sleeping giant that topped the category of most improved schools nationally, and Siakago Girls in Embu County that produced number 11 in the list of top candidates under 16 years of age.
In the special needs category, Mt Kenya had five of the top 15 students, with M-Pesa Foundation Academy making an inaugural appearance in the honours list. Other schools there included Kiambu's St Anne Lioki and Cianda High, Murang'a High and Nyer'is Mahiga Girls.
Kaaga Girls was still compiling its results yesterday evening but principal Eunice Maeke reported they had registered two A plains and 18 A- grades out of its class of 227.
"It was a lot of hard work by teachers who covered the syllabus well in advance and put in a lot of effort to recap the Form One and Two work. But we also had an exceptional class that had been outstanding since they entered Form One and they co-operated fully with the rigorous revision," said Maeke.
She praised the girls for daring to dream, saying they sat 10 cluster examinations from other schools as part of their revision.
Chuka Boys High School in Tharaka Nithi County was among the most improved schools nationally alongside Kaaga Girls.
Prof Magoha described the resurgence of the former giants as returning the river to its course, singling out Kagumo as among the greats that had reclaimed their position.
Kagumo, which alongside Bishop Gatimu Ngandu Girls holds the national school status in Nyeri County, showed its brilliance streak in the 2020 results.
Results compiled by the school showed 16 of its students scored A plain. Another 65 had A-, 65 B+, 67 B plain, 35 B- and 25 C+, totalling 273 who qualified to join university.
Among its top students were Sanare John Njoroge with 83 points, Seth Muturi James (82), same as Kamau Lewis Thiga, Austin Odhiambo, Alex Wangara, Victor Miano and James Ngaruiya. Wangu Ngatia, James Mirisho Macharia, Kennedy Musembi, Mutuko Felix Mutinda, Muriuki Martin Karume, Mark Bernard Ndungu, Wangombe Jeff Gathu and Ruguru Peter Kanini each scored 81 points.
Also showing a spring was Njiiri School in Murang'a that recorded A plain of 82 points by Nixon Mutisya.
At Kiaguthu High School, also in Murang'a, which gained its fame after 15 years, Wachira James Njuguna scored A plain of 82 points ahead of schoolmates Kibuchua Danson Maina and Mwangi Manasseh Gikonyo who got A- of 80 points each.
Mugoiri Girls, which is the second national school in Murang'a, had an A plain of 81 points through Githuku Mercy Njeri while 11 other students had A- of 76-80 points.
Allan Njoroge of private Edinburg School had A plain of 81 points ahead of Ronnie Mugambi with A of 82 points and Philip Kiruri with A- of 76 points.
In Meru, among the schools with A plain was Njia Boys, a sleeping giant in Igembe, where Kabira Moses Muteithia attained 81 points.
But it was Meru School that continued to hog the headlines, with 12 students scoring A plain, 51 had A-, 71 B+, 80 B plain, 47 B- and 37 C+. Only 22 out of an entry of 329 students failed to attain university entry grades.
Meru School Principal Kariuki Kiwara attributed the exemplary performance to hard work by students, teachers' commitment and the fear of God.
Kiambu High School, another Mt Kenya sleeping giant, also registered commendable grades, with Maina Joseph Njoroge registering an A plain of 84 points ahead of classmates Wambui Adrian Mwangi with A- of 76 points followed by Njuri Antony Chege and Thuo Joel Mungai, both with 75 points.
Nkubu Boys High School in Meru had by yesterday evening registered six A plain. They were led by Joseph Brian Munene with 83 points, while Morris Murimi and Daniel Kiongo Macharia tied at 82 points ahead of Lewis Bari and Vincent Muthoni Maitima at 81 points.
At Kanyakine Boys, Kimwele Brian Kulule had an A plain of 81 points, while at Siakago Girls, Joy Gatwiri had an A plain of 83 ahead of Gateru Sophia Wambui and Mbuthi Royashley Nyambura with an A plain of 82 points each. Wambui was also number 11 in the top 15 candidates nationally aged below 16.
There were also statement performances by little known day schools in the region.
Antuanduru Mixed Secondary in Tigania East, for example, had an entry of 109 students, with 24 qualifying for university.
[Report by Wainaina Ndung'u, Sammy Mose, Boniface Gikandi, Lydiah Nyawira, Fidelis Kabunyi, Ndung'u Gachane, Phares Mutembei and Gerald Mutethia]