Candidates running out of time to pick varsity courses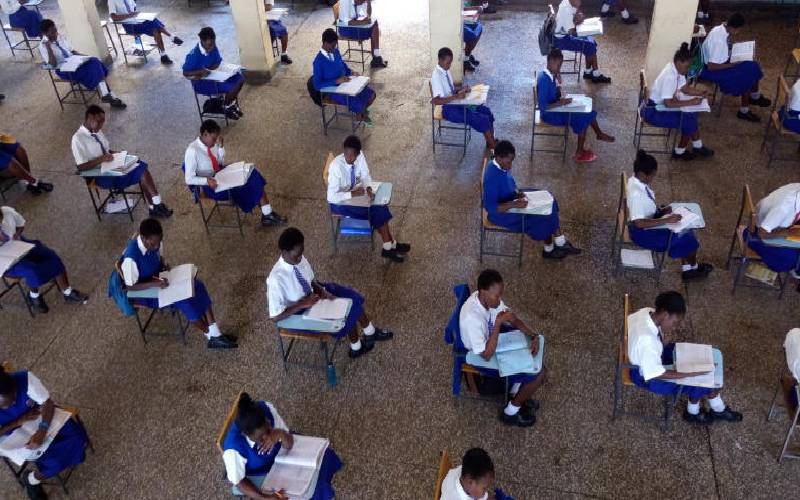 Time is running out for the 700,000 KCSE candidates to select courses for universities and colleges.
The Kenya Universities and Colleges Central Placement Service (KUCCPS) applications will be closed on March 31.
And with national examinations scheduled to start on March 26, the application window is drawing to a close.
Education Cabinet Secretary George Magoha and KUCCPS are worried that many students may miss out on their dream courses, which are key to their career choices if they fail to act now.
"Teachers must ensure that Form Four candidates are registered in the KUCCPS online portal for universities and colleges placement," said Magoha.
Data from KUCCPS reveals that every year, thousands of students miss out on their dream courses after failing to choose the degree and diploma programmes they wish to study.
Reports also indicate that only 20 per cent of the 10,000 public secondary schools assist their candidates to make career choices, dimming the future of many learners.
KUCCPS Chief Executive Officer Agnes Wahome regretted that most KCSE candidates complete national examinations and go home without selecting courses, which limits their choices during revisions.
"These students run back home after KCSE examinations without selecting any course and this limits their choices when the portal opens for a first and second revision," said Wahome.
Speaking to The Standard, Wahome said the selection of courses at the school level must be taken seriously as it has a huge impact on students' career choices.
"We strongly advise candidates, parents and especially teachers to ensure candidates select courses before they leave school as it impacts the children's lives," said Wahome.
Choices open to them
Candidates get the first chance to select degree, diploma and certificate courses at the secondary school level before sitting KCSE examinations.
The application is done in secondary schools or examination centres that have registered KCSE candidates.
"This is the first opportunity given to KCSE candidates to select, list and submit the courses that they wish to pursue after their secondary education at degree, diploma, craft and artisan level," said Wahome.
Students have a total of 18 choices open to them when making applications at school level. There are six options for degree courses, four for diploma programmes and a similar number for craft certificate options. The students also have four options for Artisan Certificate.
The school level courses selection is crucial as teachers are available to provide career guidance to the students.
"Teachers offer career guidance to the students and assist them to select courses that fit their career dreams and are aligned to their KCSE subjects," said Wahome.
Teachers are also expected to ensure candidates' choices are submitted to KUCCPS before the deadline.
Wahome noted that applications at the school level also benefits students who live in remote areas or lack the necessary facilities such as the internet once they return home.
"In the past, many KCSE candidates performed well but failed to apply for placement to university and/or college resulting in them failing to be placed to courses of their choice. Applying at school before the KCSE examination ensures this does not happen," she said.
She explained that students applying at school level get an early exposure to courses and careers and tend to make better choices later at the revision stage.
Wahome noted that the cost of application at school level is only Sh500, while submitting choices during the revision stage costs Sh1,500.
It is, however, emerging that some head teachers collect money but fail to submit course choices.
All schools are supposed to create an account where principals apply for students' placement to universities or colleges.
Only the principal can submit the school applications, and not individual students.
Kenya Secondary School Heads Association national chairman Kahi Indimuli urged head teachers to assist students to select courses.
"We plead with our colleagues to ensure these children are assisted to shape their future because we know their potential and we can help them make good choices," said Indimuli.
It, however, emerged that some of the head teachers cite the anticipated poor academic performance of candidates in KCSE as reason for not registering the courses.
And in some schools, principals only register candidates that they predict may score the minimum university entry grade of C+.
KUCCPS data show a disturbing trend where head teachers failed to submit course applications for some 1.6 million KCSE candidates.
KUCCPS data for the past three years shows that only applications for 241,315 candidates were received from schools nationally.
Were not considered
In 2016, of the 577,338 candidates who sat KCSE, only 92,683 were registered at school level. Only 62,863 candidates were registered in 2017 out of the 615,679 who sat KCSE.
And in 2018, only 85,769 applications were received out of the 664,592 candidates who sat the national examinations.
This means that more than 500,000 candidates were not considered in 2018 for certificate, diploma or degree course at school level.
And the situation is even dire during courses revisions as many students are locked out because they have to compete for the limited slots.
Last year, some 125,448 candidates qualified for placement to degree programmes. Of these, 118,794 submitted applications for placement by the close of the first revision of choices. About 82,169 (65.5 per cent) were provisionally placed to one of their choices.
However, 36,625 applicants did not secure any of their choices.