Pre-colonial school benefits from modern classrooms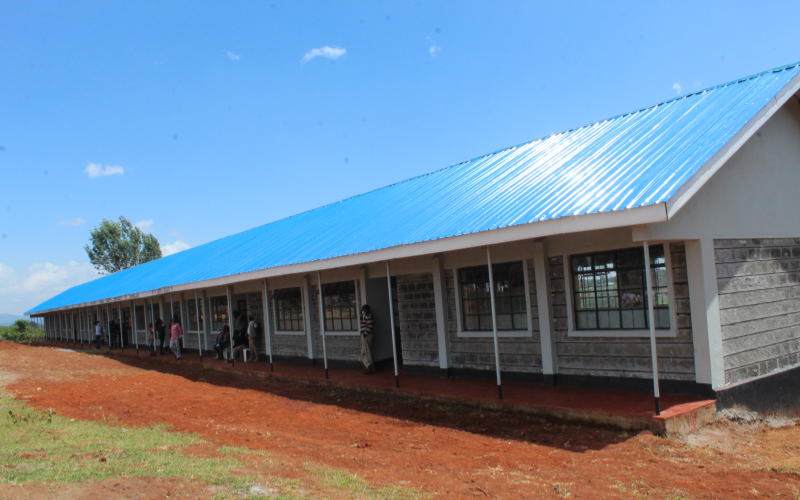 Parents, teachers and pupils of Muringato Primary School in Nyeri have a reason to smile after they re-opened this week and found new classrooms ready.
For decades, the school, which sits on the Dedan Kimathi University land, has been the only institution of learning for local villagers.
During colonial times, it was meant to be a daycare for children of coffee plantation workers.
The classrooms were wooden structures designed for horses. They had gaping holes for windows and the floors were earthen.
Exposure to extreme weather conditions due to the poor state of classrooms saw the school population drop to 35 pupils in 2018 as parents looked for better institutions for their children.
However, this learners population has now grown to 350 pupils after efforts to rehabilitate the facility started in 2019.
The new block was built in six months at a cost of over Sh15 million. This was done through the collaboration between the Dedan Kimathi University and Nyeri Town Constituency Development Fund.
Rosemary Nyaguthii, a parent to a Class 7 pupil in the school, said her child had been there since Standard 1 and they faced several challenges due to the poor state of the classrooms.
Take a quick survey and help us improve our website!
Take a survey
"My child was always sick with cold and flu or a persistent cough," she said.
The nearest public school in the area is over 15km away, and most parents cannot afford the private schools near the university.
During the opening ceremony, Nyeri Town MP Ngunjiri Wambugu said the old structures were beyond rehabilitation and the school needed new buildings.
Bad infrastructure
"The school has been used as an example of how bad infrastructure in some learning institutions in the region are," Wambugu MP said.
Kimathi University contributed Sh2 million as part of its corporate social responsibility while Nyeri NG-CDF gave Sh13 million.
Vice-chancellor Ndirangu Kioni said the university has a committee that will work towards continuous improvement of the school.
Parents and students were also given masks, washing hand stations, and sanitisers by the university.
Jane Nyakang'o, the university's council chair, said the institution will assist the school by supporting it in library services and ICT infrastructural development.
"The department of education in the university will also collaborate with the school management to improve its programmes by facilitating training sessions for staff and parents on how to get involved in the management of the school," she said.