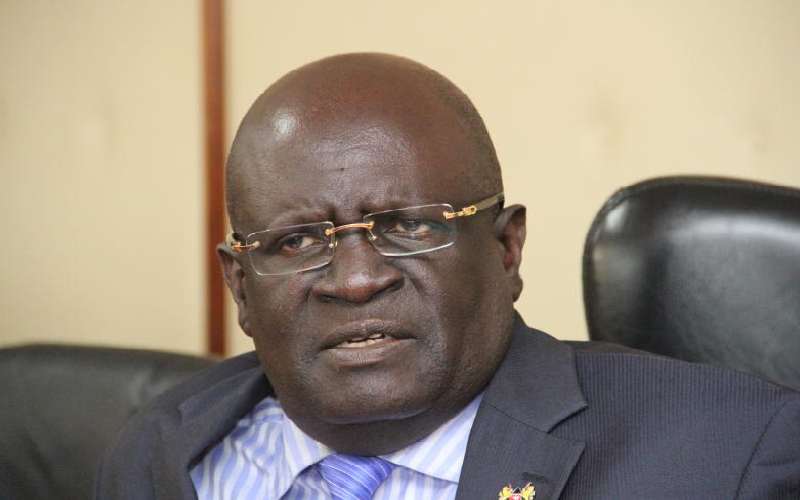 Education Cabinet Secretary George Magoha (pictured) has said the government is prepared for the reopening of schools tomorrow. He said Sh4 billion has been released and will be sent to public schools.
"Kenyan children will return to school on Monday by the grace of God. The government has already released Sh4 billion for public primary schools and will reach their respective accounts by Monday or Tuesday while Sh14 billion for public secondary schools will (be sent) later," said Prof Magoha.
He said this yesterday during a visit to Kibra Primary School in Nairobi, where he delivered desks. He said the government was making 625,000 desks instead of the initially projected 250,000.
The announcement came as education stakeholders raised concerns on the preparedness of the government to reopen schools.
Magoha said the government was looking for money to help private schools bounce back after the ravages of the pandemic. The government, he said, has also made available Sh710 million for the building of classes and relocation of schools affected by flooding in places like Rift Valley.
At the same time, Magoha asked teachers not to send home children whose parents were unable to raise school fees. "I challenge school owners to visit the parents of those children...to confirm inability to pay fees, identify them so that we can see how the government and well-wishers can help them get fees," he said.
The CS also asked schools to use bar soaps instead of liquid soap. He warned schools against asking parents to buy hand sanitisers. Magoha, however, said masks were mandatory. "We have been talking about masks and the kind of masks needed for the past four months and parents should buy them. We are recommending reusable cotton masks with three layers. They are also cheap, selling between Sh20 to Sh50. For those privileged parents, you can buy a packet of surgical ones that correspond with the number of days in a term," he advised.
He said masks would be provided for about three million children in informal settlements. "I thank Unicef, Ministry of Health, government and KCB Bank, which have bought seven million masks that will be distributed to most needy schools in slums," he said.
On social distancing challenges, the CS said it will be a tall order but as long as learners have masks and were washing hands, learning would continue.
"Don't come on Monday and start (saying) this desk is not one metre (distance); you will be talking to yourself. Our children must be in school and will be sitting closer than one metre," he said.
He said children transferring from private to public schools will be taken in. "We have given a directive that children from private schools will be taken by public schools and we will be reasonable enough not to transfer private school children to far off public schools," he said.
This comes as a relief to parents who had children in private schools that closed shop.
Magoha later visited Precious Talent School in Dagoretti Constituency, which had been shut since September 2019 after a section of classrooms collapsed, killing seven pupils.
He said the ministry was happy with the progress of preparing the school for reopening but warned that learners will be transferred to the nearby Ngong Forest Primary School, a public institution if all requirements were not met.