Vice-Chancellors set to lay off workers in a bid to stay afloat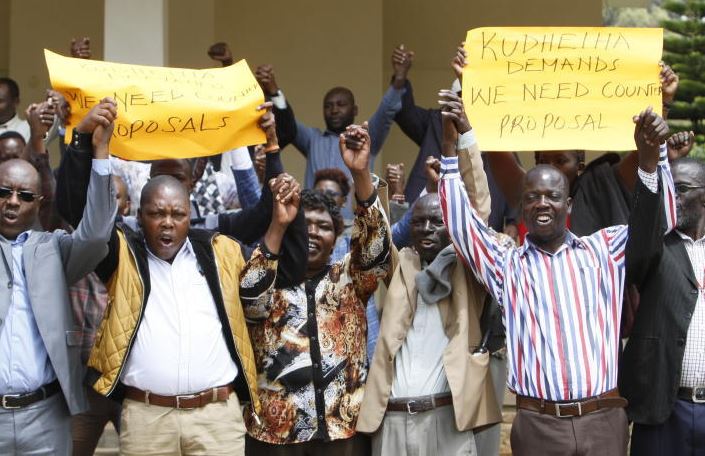 Thousands of staff in public universities are set to lose jobs in a major shakeup aimed at easing financial burden.
The exercise targets non-teaching staff who are not critical to the universities core mandate of imparting knowledge.
Old staff who have not upgraded critical skills will also be sent home in a new push to streamline huge wage bills.
Also to lose jobs are staff in administrative positions and drawing huge salaries, as some of the positions will be merged and responsibilities shared evenly to cut costs.
The National Treasury has approved the layoff saying the universities have bloated staff, some with old skills that are no longer needed.
"Some universities have bloated administrative staff and re-organising human resources at these universities will require allocation for downsizing," said National Treasury Principal Secretary Julius Muia.
He said that Egerton University for instance, has requested Sh1.5 billion for retrenchment.
"The universities may conduct their audits and know the financial burden that will be required to streamline staff," said Dr Muia.
The PS was speaking when the Ministry of Education and the Treasury officials and VCs appeared before the National Assembly Education Committee chaired by Florence Mutua.
Muia said sustaining huge staff payrolls is a financial challenge the universities are facing.
It emerged that some universities have hired more staff than they can sustain, pushing them into perpetual financial crisis.
In one university, the ratio of technical and non-technical staff stood at 1:58, which was said to be very high.
A VCs' report on public universities financing and budgeting, dated November 2, 2018, said that student staff ratio had now risen to between 1:80 and 1:100 beyond the recommended range of 1:15 and 1:18.
Inflated
"The huge financial crisis has pushed universities to expand classes and reducing practical classes to bridge the funding gap," the VCs report said.
University PS Simon Nabukwesi said that to mitigate the funding gap in the universities, there is need to rationalise staffing by reviewing workload of academic staff.
Nabukwesi also cited review of salaries and allowances of senior administrative staff in universities and reducing the positions of top management such as DVCs and registrars.
Kabondo Kasipul MP Eve Obara, a member of the Education committee, asked the VCs to conduct staff audit and send a report to the Ministry of Education. "How many do you have and their categories, what is their age. If you retire those with 50 years and above how much will you pay them? Or what is the best option of it all," Obara said.
She said every university must prepare documentation on staff rationalisation.
"This is what will form the Cabinet Paper that the Ministry will sent to Treasury alongside many other financing issues including waiver of statutory deductions," Obara said.
MPs, VCs and the Treasury officials roundly agreed that a Cabinet Paper on these issues be presented as early as next month.
Data released last year reveals that there are some 32,784 workers in public universities.
These include 10,572 teaching staff under University Academic Staff Union and 13,719-odd members of the Kenya University Staff Union.
Kenya Union of Domestic, Hotels, Educational Institutions Hospital and Allied Workers has 8,493 workers.
Staff data in public universities has been a sticky with different sets of numbers presented to various government agencies. A 2017 audit by universities managers and unions revealed that the public institutions had inflated staff data by 2,513.
Different approaches
The institutions had declared a workforce of 30,312 but after an audit by the three workers unions the figure came down to 27,798.
Interviews with some of the VCs revealed that there are different types of university staff, most of whom were employed through different approaches.
The VCs explained that there are universities that were previously technical colleges and had ministry staff seconded there.
For instance, Technical University of Kenya and Technical University of Mombasa inherited staff from former colleges who are no longer teaching, but still drawing salaries.
Samuel Kiiru, the Treasury director of National Planning told MPs that the issue of teaching and non-teaching staff is a weighty matter in universities.
"Some of these universities were colleges and when they converted to universities they took on board huge number of staff who are now not suitable for a university," Kiiru said.
Muia said that Ministry of Education has been guided that the way to sort out all the outstanding matters is through a Cabinet Paper.
Some VCs also traced the huge wage bill to staff hired after institutions mounted many courses.
It emerged that some universities still run courses, which do not attract students and don't align to national development goals.