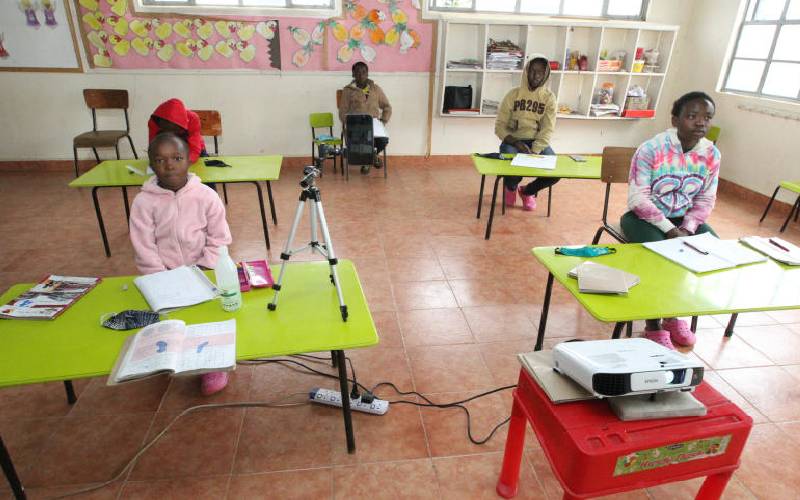 Ministry of Education has listed a raft of activities that school heads must carry out before learners report back to school.
In addition to providing clean running water and sanitation facilities, heads will also mount campaigns to boost the capacity of parents, staff, learners and boards of management to manage the coronavirus.
Part of this will include sensitising parents and entire communities on their role in ensuring the health and safety of ?learners, trainees and staff.
Heads will also sensitise parents, teachers, non-teaching staff and community members on the importance ?of hygiene and social distancing, at home and in learning institutions.
Read More
The school managers will also sensitise all learners, using age and gender appropriate Information Education ?Communication materials on Covid-19 prevention and control.
This means headteachers will have to develop awareness messages on key infection, prevention and control measures in order to promote good hygiene practices.
And while in school, heads will be required to collaborate with institution sponsors to ensure the provision of psychosocial and spiritual services.
The guidelines also want school heads to constitute institutional Covid-19 response committees to coordinate response strategies.
These committees will be comprised of five members; a learner/trainee, a non-teaching staff, one ?board of management member and teachers.
Before learners report to school, school heads will also be required to develop protocols on hygiene and social distancing measures.
Heads will also be required to carry out a risk assessment for suitability focusing on space, water, sanitation, provision of meals and transport of learners and develop mitigation measures.
The details are contained in the ministry's guidelines on health and safety protocols for reopening of basic education institutions amid Covid-19 pandemic.
The guidelines say that reopening of educational institutions within the context of Covid-19 requires adequate preparations by the education sector, line ministries, county governments, institution managers and administrators.
Teachers, parents and religious organisations also have a role to play by ensuring they work in close collaboration with the Ministry of Health and the entire institutions ecosystem.
The document released by Ministry of Education says that stocking up the schools with key supplies, including disinfectants, liquid soaps, non-touch thermometers, face masks and first aid kits must also be done before schools learners report to school.
The heads will also be required to identify emergency health facilities that are within a 10-kilometre radius and collaborate with the county government to have some health personnel assigned to the institution for regular health monitoring and sensitisations.
Specifically, the heads will be required to collaborate with the Ministry of Health through the sub-county education office to map out ?quarantine centres, at least one per sub-county, in case of reoccurrence of the outbreak.
"Care must be taken in isolation of minors, especially the girl child. Ensure students' rights are always safeguarded at all costs," reads the guidelines.
In schools, heads will ensure there is a designated room within the institution's premises for use as a sick bay or for ?temporary isolation in case presumed cases occur in institutions.
"Put in place health and safety measures to guarantee the health and safety of learners and trainees, teachers, non-teaching staff, parents and entire community," says the document.
Overall, once children report to school, teachers will be required to ensure class/cohort sizes are adjusted to ensure adherence to social distancing.
Education institutional programmes will be reworked to avoid learners and trainees from gathering ?at one place in big numbers.
Use of face masks by all learners and trainees, teachers/non-teaching staff and parents/?guardians/visitors at all times within the school environment will be emphasised.
Referral systems for the provision of mental health and psycho-social support for learners'?/trainees and staff members must also be put in place.