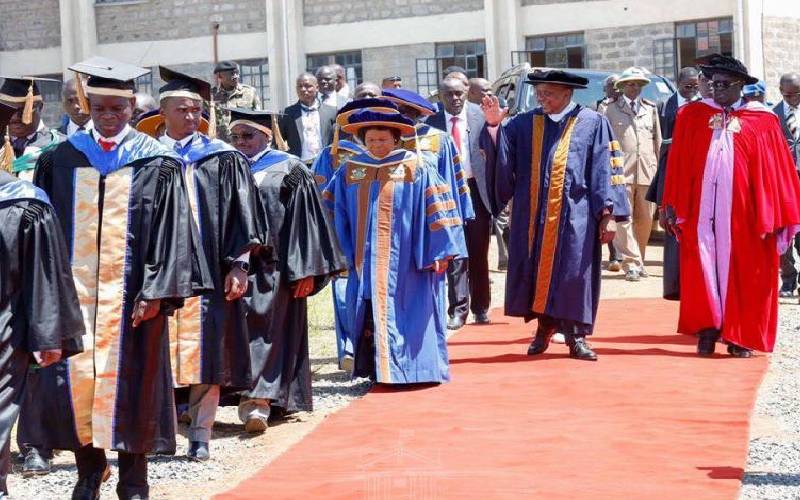 A row is brewing at Kibabii University over the appointment of the deputy vice chancellor in charge of Administration, Finance, and Development.
Intense lobbying is ongoing over the position that was left vacant following the resignation of Shem Aywa early last year.
Siamba Namasaka was appointed in acting capacity since May 4, 2019 and upon the expiry of the initial six months, his acting period was extended to May 2020.
When it was advertised, the position attracted the interest of 10 dons who applied and were subsequently shortlisted by the Public Service Commission for interviews that have already been conducted.
The position has attracted a lot of interest because the holder of the office sits in a strategic position to take over the mantle from the current Vice Chancellor, Isaac Ipara, whose five-year term expires next year.
If his term is renewed, Prof Ipara will serve a final five-year term and if not, any of his deputies can take over in acting capacity as a replacement is sought.
The local community, political leaders, and students have thrown their weight behind Namasaka.
In a letter to the University Council, John Masinde, a member of the community, has demanded the immediate confirmation of Prof Namasaka.
"In the event that Prof Namasaka is not confirmed, we shall call for demonstrations and further move to court," the letter reads.
The race to the position has been narrowed down to three top candidates: Namasaka, Emmy Jerono and Lydia Kutima.
While Namasaka enjoys the support of the local leadership, other candidates too have mobilised their troops to push for their appointment.
Prof Kutima is wife of Kakamega Deputy Governor Phillip Kutima.
A source at the university who declined to be named said Prof Jerono has been considered for the job.
Those supporting Jerono further argue that her appointment represents the face of Kenya.
The camps angling for Jerono and Kutima are playing the gender card, a move that has not gone well with those pushing for Namasaka.
"Why is the gender issue being raised now. Why was it initially ignored and now it's being brought," asked a local leader who sought anonymity.
After Prof Solomon Shibairo left, Namasaka is now the senior most don at the university.