Kakamega School stampede report under lock and key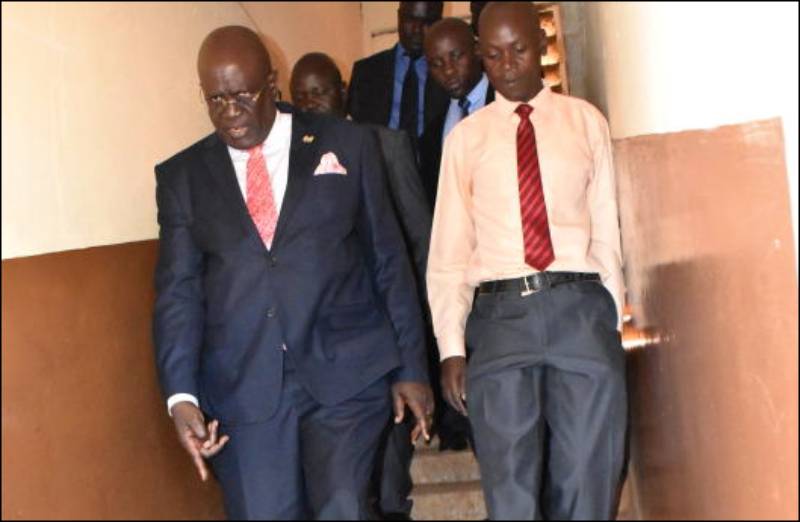 A report detailing how 15 pupils of Kakamega Primary School died in a stampede last month is ready but will not be released to the public anytime soon.
This is according to Education Cabinet Secretary George Magoha who visited the school yesterday to asses the institution's disaster preparedness.
Prof Magoha said the team picked to investigate the stampede had finalised its work and handed over the report to relevant authorities. The CS refused to divulge contents of the report, only saying it will be made public at an "opportune time".
Magoha took the school by surprise when he arrived in a convoy of three vehicles, heading straight to the classrooms of Standard Four and Five, catching both teachers and pupils unawares.
School head teacher Dickson Wanyangu was also caught unawares. Magoha quietly went straight to the three-storey building where he watched keenly as pupils descended down the stairs for lunch.
Ten minutes later, the school management joined the Education CS and inspected all the classes. "You (press) how did you know I am around and yet I didn't want you here? I have nothing to tell you. You should leave me alone to do my work quietly," he said on noticing presence of the media.
Magoha said following a thorough assessment at the school, the three-storey building and other classes are safe and will continue being used for learning purposes, saying the only remedy required was to install lights and guard rails along the staircases.
Safe and sound
He also directed that 20 teachers at all times be available when the pupils are using the stairs in numbers.
"I have seen politicians pressuring us to bring down the building on flimsy grounds that it is unsafe to house our pupils. Without fear or favour or contradiction, I want to confirm the building is safe and sound for use as classes. Politicians should keep off education matters," Magoha said.
He said they are also auditing other primary and secondary school buildings across the country to avert a similar incident and train teachers and pupils on disaster preparedness.
He said the government won't make the report public for now to allow the pupils, teachers and parents to heal following the incident.
"Let's not focus our energies in knowing contents of the report because it can cause more harm to the concerned parties," said Magoha.
Sixteen teachers and at least 46 pupils recorded statements with detectives investigating cause of the deadly stampede.