Computer labs in public schools to cost Sh1.5b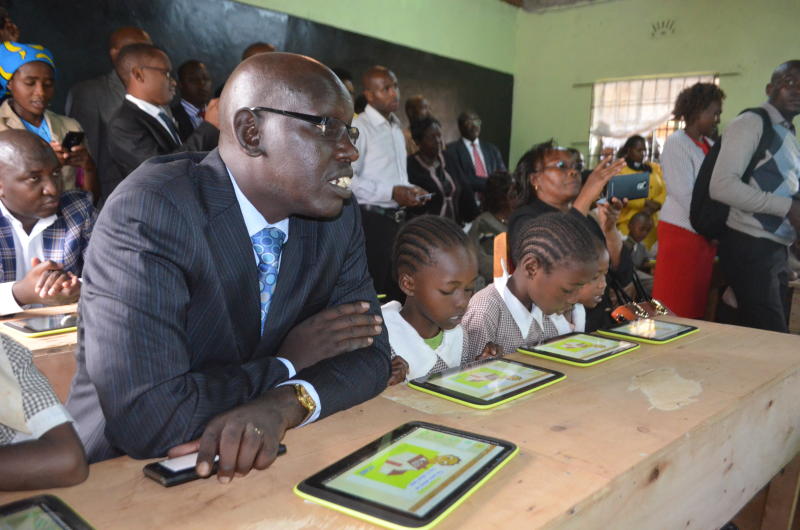 The government plans to spend Sh1.5 billion to construct computer laboratories in 23,000 public primary schools to boost digital literacy.
Basic Education Principal Secretary Belio Kipsang says the labs will serve pupils in Grade Four to Six.
Dr Kipsang, however, said the first 8,000 public primary schools will have their laboratories refurbished at a cost of Sh800 million.
"These we will embark on immediately because we will only repair or recondition existing structures. The remaining once will have new structures," said Kipsang.
The PS spoke when he appeared before the National Education Committee chaired by Julius Melly.
Shocking verdict
The PS was hard pressed to explain whether the government, having failed to deliver on the tablets for Class One to Three, and has now opted for laboratories.
"Can you clarify whether you have dropped the laptops or tablets initiative because it failed and now you are adopting laboratories?" Asked Malava MP Malulu Injendi.
A Ministry of Education report commissioned in 2018 returned a shocking verdict on President Uhuru Kenyatta's multi billion shillings schools laptops project.
The team commissioned by then Education Cabinet Secretary Amina Mohamed to conduct an assessment on the curriculum found out national implementation stands at five per cent.
"While supply and installation in schools stands at approximately 95 per cent nationally, implementation ails at five per cent in terms of utilization of the equipment," reads the report.
This meant majority of the laptops purchased for schools were not in use, several years after the project was launched and rolled out across public schools.
The report also revealed the laptops were being mishandled and stolen, hampering implementation of Jubilee administration's pet project.
Cases of misuse were also reported despite each school being given Sh60,000 to build secure storage for the laptops.
By March last year, some 1.1 million learning devices, including servers and routers, had been distributed to schools. Speaking in Parliament, Kipsang, however, said the laptops project is currently under phase two which focuses on general access by all learners.
He said phase one, which is already complete, majorly dealt with delivery of the gadgets, connecting electricity to schools and establishing assembly plants.
"Under the Digital Literacy Programme more than one million tablets were distributed per child among those in Class One to Three. We are currently in phase two which shall now require computers with higher specs and this will require laboratories for shared use," said Kipsang.
The PS said under phase two, each sector is focusing on their specific areas.
"The Ministry of Information Communication and Technology will continue to deliver devices in schools. Teachers Service Commission will continue to train teacher and Kenya Institute of Curriculum Development will deal with content," said Kipsang.
Updated data on teachers training on DLP remains scanty.
Last year, MPs heard that some 91,000 public primary school teachers for Grades One, Two and Three were trained on DLP.
Another 325 secondary school teachers were trained as ICT champions.