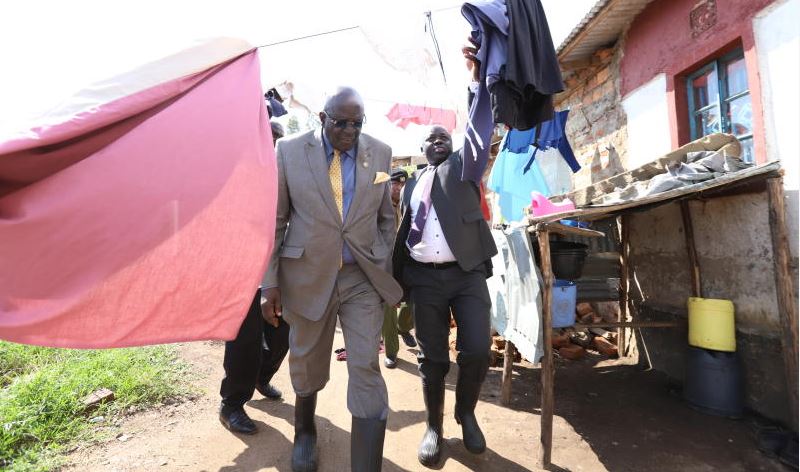 Education Cabinet Secretary George Magoha caused a stir in Kisumu when he walked into local slums unannounced to monitor the selection of beneficiaries of a multi-billion-shilling bursary fund. Prof Magoha jumped across open sewer drains and navigated dark, smelly alleyways as he popped into one house after another to confirm whether the scholarship programme applicants were deserving cases. Pamela Oduwo, a fish monger in Nyalenda, was shocked when she came face to face with Magoha, whom she did not recognise immediately. Ms Oduwo was going about her daily activities as her husband, Patrick Odhiambo, unblocked a channel to drain flood waters that had marooned their house.
SEE ALSO: Private colleges, schools fault CS on closure order
When a contingent of police officers led by the area chief arrived at their doorstep deep in the slum on Friday, the couple almost ran for safety, unsure what awaited their family. But at the chief's request, they ushered in the strange guests into their humble home. The single room with its three old, plastic chairs and broken wooden table was suddenly overcrowded and stuffy. Dirty water sat on the earthen floor as a foul smell wafted in through the door. "Where is the child? I want to see her," said one of the guests to his puzzled hosts. Magoha introduced himself as he settled comfortably in one of the plastic chairs. Then recognition finally dawned. "Waziri! How did you reach here?" shouted Oduwo as she extended her hand to greet the CS as her husband watched.
SEE ALSO: Magoha's strict opening road map for schools
Silence ensued as 15-year-old Jane Akoth entered the room. Akoth, who scored 316 marks in this year's KCPE examinations, was directed by Magoha's handlers to sit close to the Cabinet secretary. As the tension gradually eased, the parents and the CS discussed Akoth's secondary school education plans. The teenager had been admitted to a boarding school but because her parents could not afford the fees, they had sought admission in a local day school. They watched in disbelief as Magoha picked up his phone and called the principal of Tigoi Secondary School, where Akoth had been admitted, and instructed that she be allowed to enroll as the Ministry of Education was processing her fees through the Elimu scholarship programme.
Full scholarships
SEE ALSO: Why change is on the way for varsities
The Sh3 billion initiative, which was launched by the government last month, will offer full scholarships to 9,000 candidates who sat their KCPE exams this year. The programme that is being implemented through Equity Bank is being funded by the national government - through the Secondary Education Quality Improvement Project - with support from the World Bank. It is expected to benefit candidates from 110 disadvantaged sub-counties and 15 urban centres with informal settlements. The initiative considers beneficiaries who obtained 280 marks and above from public primary schools in the targeted areas. And as part of affirmative action, it also considers vulnerable candidates like orphans, or those with special needs and disabilities who scored below 280 marks. The scholarship, which is meant to boost the government's 100 per cent transition policy introduced last year, caters for the beneficiaries' school fees, transport to and from school, learning materials, sanitary towels for girls and school kits for the four-year education period. During Magoha's tour, he came face to face with the struggles economically disadvantaged families go through to educate their children. After visiting eight homes in Obunga, Nyalenda, Dunga, Nyamasaria, Kondele and Manyatta, the CS's final stop was the venue where Equity Bank officials were interviewing shortlisted students and their parents to ensure the scholarships were awarded based on merit. Equity Bank Regional Manager for Nyanza and Western regions George Onyinno said the programme has widened opportunities for more vulnerable children to access secondary school education. "The demand for these scholarships is very high and we are very happy that this new initiative will complement existing efforts like the Wings to Fly programme to increase the number of beneficiaries," Mr Onyinno said.