KCSE grades couldn't set apart twins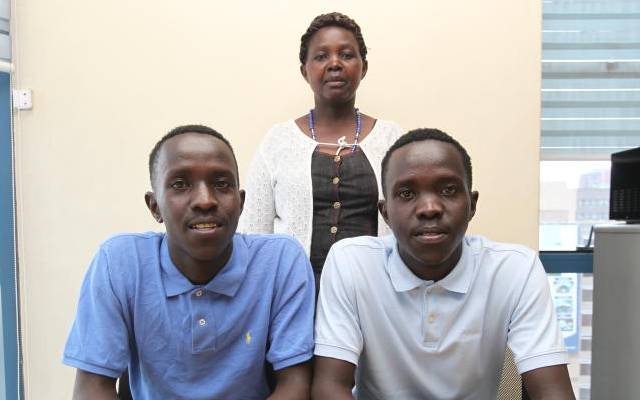 It is hard to tell apart Duncan Omae and Joash Mauti. They have the same shy smile, and when they speak, they finish each other's sentences.
They recently added another thing to their similarities: KCSE grades. They scored grade B plain of 63 points, and have been the talk of their school, St Peters Abwao School in Migori since the results were released.
"We always suspected that we would score the same grades. In previous exams, we would often tie and score the same grade. Other times, things would alternate and my brother would either score one or more points, but nothing more than three points," says Omae.
In KCPE, the margin between them was only six marks. Omae had 279 marks while Mauti scored 285.
Their mother Veronica Nyamoita says the two have been inseparable since birth, and other than academics, they like the same things, including their passion for music and dance.
"They are part of a dance crew and they are good at it. It is as if they are one person," she says.
The identical twins want to pursue medicine.
Stacy Mukhwana and Shirley Mulongo from Bungoma are another set of identical twins who scored the same grade. They students of St Brigids Girls High School in Trans Nzoia, got A minus.
Interestingly, they also scored the same marks in KCPE. They posted 408 marks. Another set of identical twins Mark Gachau and Maxwell Gachau made news when they scored 400 marks in KCPE.
These cases sparked conversation online with people asking if it is sheer coincidence or whether identical twins share the same intelligence levels.
Identical twins have been the centre of many studies, including the one by doctors in Minnesota who wanted to find out if identical twins raised apart still shared the same intelligence level, or if intellect was based on environmental factors.
"Other variables than genetics, such as material possessions in the home, had little influence, nor was the degree of social contact between the twins in each pair associated with their similarity in IQ," read part of the study done by professors from the University of Minnesota in 2012.
It reinforced the belief that intelligence is hereditary.