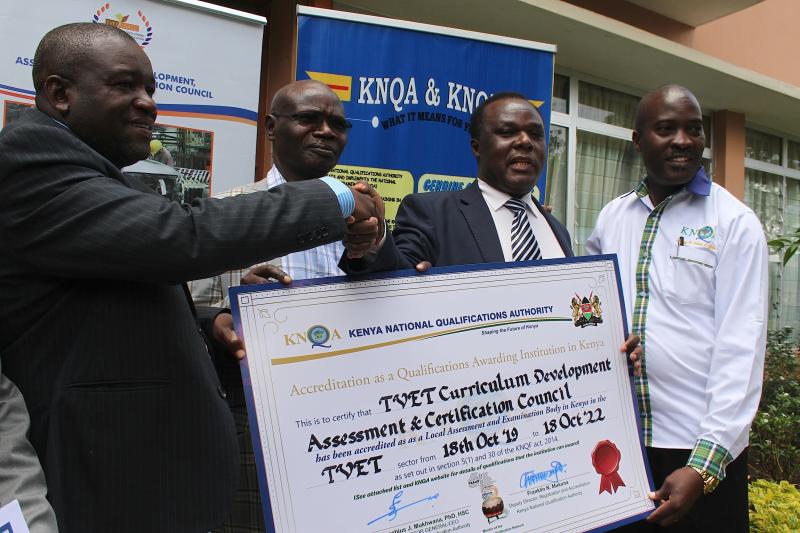 A competency-based curriculum for Technical and Vocational Education Training (TVET) centres has been unveiled. The Kenya National Qualification Authority has approved 278 courses, which will be monitored by the Curriculum Development Assessment and Certification Council (CDACC) for conformity. The Authority Director-General Eusebius Mukhwana yesterday said the country is experiencing a gap in the skill sector, which has led to importation of labour to bridge the skill gap, citing the Chinese building roads in Kenya. "We have 90 per cent of our students going to universities while 10 per cent join Technical and Vocational Education Training Centres," said Dr Mukhwana
SEE ALSO: Colleges rush to complete projects ahead of opening
He said out of 324 submissions by TVET for consideration, they have approved 278 courses that are competency-based. "All TVET institutions must follow this curriculum that has been approved by the authority. Any other curriculum is null and void," said the director. The authority says the council is mandated to ensure successful implementation of the curriculum in TVET institutions. "Our purpose as an authority is to ensure the Kenyan education system offers courses recognised globally as competitive," said the director. He added: "Just like we rolled out the competency based programme in our primary schools, we have done the same to our vocational training centres in Kenya." Dr Mukhwana said only 23 TVET Institutions in the country are accredited to offer the newly-launched competency based curriculum.
SEE ALSO: Schools may not resume in September as was hoped
The director said more information about the new curriculum is on the authority website. The meeting held yesterday brought together stakeholders in the education sector who were urged to offer courses in line with the authority guideline policy to avoid cases of students having certificates that are not recognised. Check the validity Dr Mukhwana said the authority currently has pending cases in court with 22 students, who contested the declaration that the courses they took did not fall within the guidelines and policy in place. He announced that by March 2020, they will have a database of all the graduates in Kenya and employers will be able to check the validity of a certificate at a click of a button.
SEE ALSO: Higher education is at a crossroads in Kenya
"We are going to collaborate with Kenyan universities to establish this database which will play a crucial role in weeding out fake certificates," Dr Mukhwana said. The TVET CDACC Chief Executive Officer Lawrence Guantai said the new curriculum was a milestone in the education sector. He said the curriculum will ensure students receive the necessary skills that will make them employable in the job market. "From today, the certificates that will be issued by TVET CDAC will be up to the required standard in the job market," he said. Dr Guantai revealed that the new curriculum was necessitated by the changing demand of the industry that is more skill oriented. Fake certificates He said the new certificates they will issue in TVET Institutions will come with a card that is expected to help weed out of fake certificates. "The card that we will be issuing will have a QR code, the Kenya National Qualification code, logo of the county and CDAC, the assessment center, two signatories that of the CEO TVEC CDACC and Principle of the assessment center," said Guantai. The CEO said this would ensure that the certificates they offer are harmonised and recognised internationally. The meeting was attended by officials from Ministry of Education.