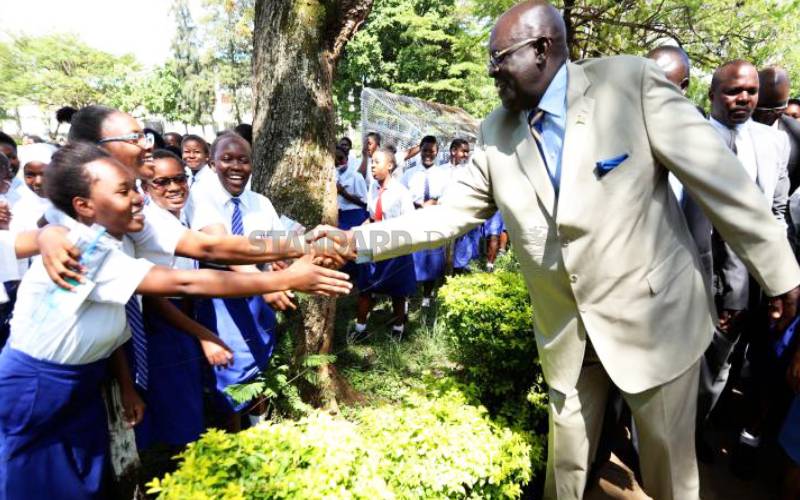 Fourteen people have been arrested in Kisii County after attempting to cheat in the ongoing national secondary school exams.
Those in custody are the proprietor of the private school where the cheating was planned, the school's deputy principal and another unnamed accomplice.
The three were joined in police cells by 11 other individuals who were accused of impersonating Kenya Certificate of Secondary Education (KCSE) exam candidates at the same institution.
Education officials and senior police officers yesterday raided the school in Kiogoro Division of Nyaribari Chache District, following a tip-off from the public.
The school principal is said to be on the run.
Kisii Central Sub-county Police Commander Zachary Kimani and area DCI Martin Korongo led the raid.
Commenting on the arrests while in Kisumu, Education Cabinet Secretary George Magoha said the cheating plan had been woven around a careful scheme of impersonation.
Advanced scheme
Prof Magoha explained that the 11 individuals, who are mostly teachers, had accessed the examination room pretending to be students so that they could write examinations on behalf of some candidates.
He said the impersonators accessed the examination room with their own photographs, which were embedded in the Kenya National Examination Council (Knec) schedules.
A Knec schedule is document that is used to identify a particular candidate in an examination room.
He said all examination officials at the school have already been replaced.
"This was a very advanced scheme, to the extent that they started by planting their photographs on the Knec schedules," said Magoha.
The CS said genuine candidates who were being impersonated would be allowed to proceed with the examinations.
He added that all teachers involved in the cheating plan would face disciplinary action.
"We have many honest teachers, but there are a handful who are crooks and want to use all means to cheat in the examinations."
Magoha further said investigations have been launched in a school in Thika where cases of impersonation have also been reported.
Impromptu visits
In another area that he did not name, the CS said an examination official was arrested after accessing a Chemistry paper before the official time.
Magoha stressed that should this trend continue, Knec would be forced to pack examination papers for the exact number of registered candidates.
Currently, an extra paper is packed to cater for emergencies.
"These are cases that we are still interrogating, therefore we cannot give details, but as we move along we will tell you how we are handling the malpractices," he said.
Magoha made impromptu visits at Kisumu Girls and Kisumu Boys high schools where he ordered two additional police officers for each institution.
Before his visit, the schools had two police officers each. He noted that number was too small given that both schools are located along the busy Kisumu-Kakamega Road, opposite the main bus stage.
He also ordered that schools leave their gates wide open, so as to enable transparent administration of the examination.
"Some schools lock the gates so that they do their bad things inside there," Magoha said.
"Last year, I had to wait for over 10 minutes for a gate to be opened, and your guess on what was happening as I waited at the gate is as good as mine."