It took Erick Ademba 17 years to be the best teacher in Africa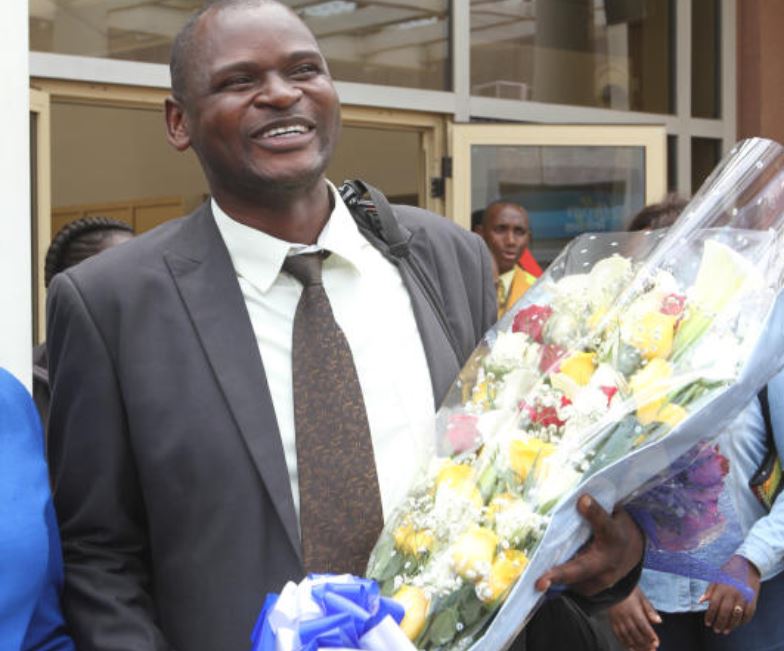 Erick Ademba's 17-year journey to be the best teacher in Africa began at Sori Secondary School in Migori County. As a Third Former in this school in 2002, Ademba admired his chemistry teacher Benjamin Omondi.
By his easy explanations of chemistry concepts, Omondi always made the subject fun to Ademba. By the time he was sitting his Kenya Certificate of Secondary Education (KCSE) exam in 2003, Ademba had decided to be a teacher.
He enrolled for a Bachelor of Education course at Egerton University in 2005 and graduated in 2008. The following year, he was posted to Asumbi Girls High School in Homa Bay where he teaches chemistry and mathematics.
Prior to his arrival at Asumbi Girls, the mean score of chemistry in KCSE was below seven or C+ grade.
As a result of low grades in chemistry, only a small fraction of the KCSE candidates would pursue Science, Technology, Engineering and Mathematics (STEM) careers in university. Ademba's job of changing this scenario was cut out for him.
His first Form Four class in 2009 posted a mean score of 6.7. Since then it has been a journey of constant improvement.
"I vary my teaching methods to suit the individual needs of my learners and I motivate my students at every opportunity," says the 35-year-old teacher.
Ademba is proud of his relentless 10 years' work that has paid off in good grades. In the last three years the school posted a mean score of 7.8 (2016), 9.6 (2017) and 8.7 (2018) in chemistry.
"Part of my strategy is motivating the girls and making them believe in themselves," he says.
Ademba is so passionate about chemistry that he has originated a slogan at the school; inua chemistry (hold chemistry high). "The girls chant this slogan as a form of greeting in and out of the classroom!"
Excitement
Last week, he was declared the winner of the inaugural African Union Continental Teacher Prize in Addis Ababa. This win has generated a lot of excitement among the teaching fraternity, especially on online platforms.
"It is not lost on everyone that my victory comes hot on the heels of Peter Tabichi's award of the best teacher in the world," Ademba says, adding that congregation that witnessed the awards ceremony could not hide their admiration for Kenyan teachers.
"As I walked to the dais to receive the award, the congregation audibly sighed: 'Not Kenya again!'
"This prize is a recognition of all teachers for the many hours they put in to deliver quality education," he says and appeals to other teachers to work diligently, add value to the learners under their care and never give up.
"Teach each lesson as if it is the last one you are doing, look for opportunities to change the lives of your students and never give up on yourself or the learners under your care," he says.
This head of science department at Asumbi Girls says team teaching and enhanced quality time with students are key in turning around the teaching of chemistry.
He encourages other chemistry teachers at the school to teach as a team across the streams.
"We infuse variation by teachers taking certain topics in each other's classes," he says.
Ademba maximises his contact time with students by grouping his classes into three categories based on their performance in chemistry.
"I designate these groups as average, above average and challenged and adopt appropriate interventions for each group," he says.
This remedial teaching, which includes creating extra time and giving more challenging work as the groups may require, starts in Third Form.
"Often, my interventions are individualised to address specific gaps in the students," he says.
Further, this teacher's classes carry out at least one practical lesson every week, working in groups of two. This gives the students ample time to manipulate the apparatus and their confidence in chemistry increases, as a good pass in the practical paper is crucial to the overall grade in chemistry.
He says an occasional "dry practical" goes a long way in reinforcing many areas that are tested in practical lessons.
"A dry practical is a theory lesson based on experimental data and tests the students' in-depth knowledge of a topic," he says.
Last year, Ademba was second in the Teacher of the Year (TOYA) competition. He is grateful to the TSC for nominating him to the AU Continental Teachers Prize in June this year.