Study: Shortage of qualified tutors to teach new syllabus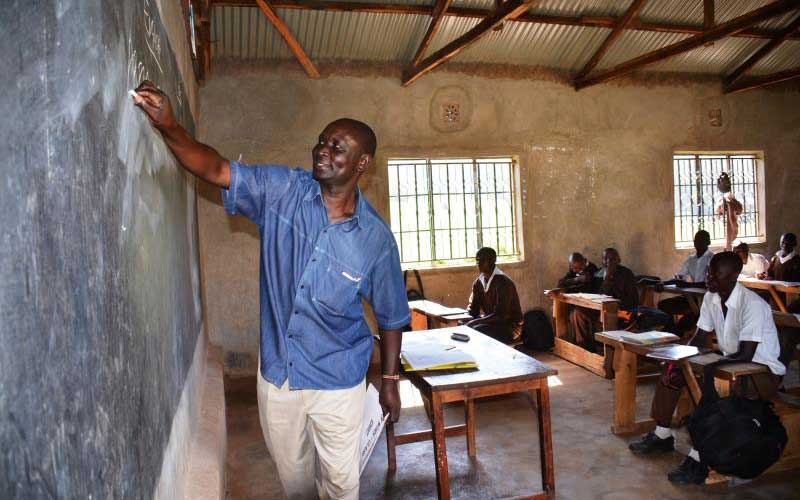 There is a shortage of teachers with requisite skills and ability to implement the Competency Based Curriculum (CBC) in primary schools, a new study has shown.
The study, commissioned by Kenya National Union of Teachers (Knut), shows that most schools have only one trained teacher with a learner population of 40-79 pupils per stream and more than one stream from PP1 to Grade Three.
But even with the ones already trained, majority of the teachers say they were not adequately prepared to teach the learners on the new curriculum.
According to the report exclusively seen by The Standard, training was conducted mainly for two to three days per week instead of the stipulated five days, giving teachers a raw deal.
The study shows the training sessions were too short to equip teachers with knowledge and skills on the competency-based curriculum, which implies that teachers generally have limited or lack knowledge and skills for the successful implementation of CBC.
"Teachers were not satisfied with knowledge and understanding on learning resources to use per strand and sub-strand, assessment methods, assessment of learning and individual learners, grading assignments and development of teaching aids," reads the report.
The study further established that although some instructional materials were available in schools, majority of the resources were not adequate both for the teachers and the learners.
According to the report, CBC guides Volume 1 to 4, teachers' guides, teachers' handbooks, approved learners' books, teaching aids, play materials, learners and teachers' desks and chairs are not adequate.
"Findings from the 405 schools sampled indicate a major deficit of CBC teachers, mostly in PP1, PP2 and Grade III and 77.4 per cent of those sampled lacked at least one CBC trained teacher in one of the Grade II," reads the report.
The distribution of the number of schools without CBC teachers in Pre-Primary 1-to Grade 3 per counties reveals that only one county has 40 trained teachers on CBC, while some counties have not a single teacher with CBC skills and knowledge.
"The major deficit in all counties was in PPI, II and Grade III, with more than 96 and 90 schools without CBC trained teachers for PP1 and PP2 respectively and 50 schools for Grade III."
This shows that 31.6 per cent of sampled schools had no CBC trained teachers teaching PP1 and 29.6 per cent of sampled schools had no trained teachers for PP2.
Materials developed
Although the Teachers Service Commission (TSC) report indicates that learning print and digital materials for the curriculum had been developed and distributed to schools, Knut's research findings indicate that only Mathematics, English and Kiswahili had been approved, while in other learning areas more than 70 per cent indicated that learners had no approved books.
Already, the teachers' employer has warned that the training of 110,000 tutors who are supposed to implement the new curriculum will be at risk unless the Government releases funds in time.
Chief Executive Officer Nancy Macharia said Sh900 million was needed to support training in April, August and December. Teachers to be trained are those teaching Grade 1, 2 and 3.