Be creative to raise cash, varsities told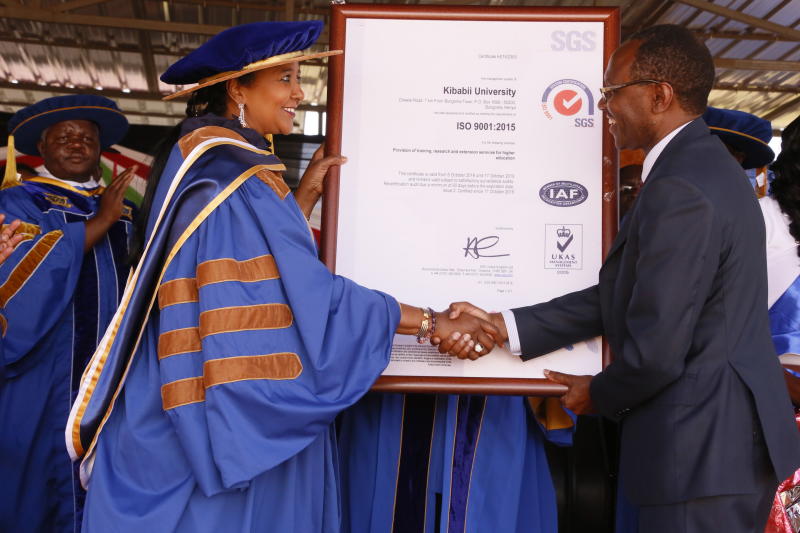 Universities have been challenged to find innovative ways of raising funds for programmes.
Education Cabinet Secretary Amina Mohammed said universities should find different avenues of raising funds.
Speaking during a graduation ceremony at Kibabii University on Friday, the CS said institutions of higher learning should not only wait for funds from the government but engage in diverse activities that will raise funds.
"I challenge universities to come up with innovative ways of raising funds. This will help them in funding of their various projects," she said.
The CS added that universities should conduct research projects to improve the lives of the surrounding communities.
She said through research, universities could help the government achieve the Big Four Agenda.
"Through proper research, universities can be better placed to help the government in achieving its development plans," she said.
Vice Chancellor Odeo Ipara said despite shrinking enrolment in public varsities, Kibabii had recorded an increase in students last year.
He said the Kenya Universities and Colleges Central Placement Services (KUCCPS) had allocated the varsity 700 but 900 showed up.
He added that the privately-sponsored students popularly known as parallel programmes registered an enrolment of 400 students.
"Overall, we can say that our enrollment has improved as the last one we had 1,300 joining us. 900 were from the KUCCPS and 400 from parallel program. This is a boost as enrollment numbers are shrinking," he said.
Prof Ipara said enrollment in the sciences was increasing, adding that of the six PhD graduands, four are in Information Technology and two in Mathematics.
The VC said the university had partnered with Bungoma County government to train ECD tutors and teachers.
"We have an MoU with the county government that will see us train ECD teachers and also their tutors. This is because the ECD section has been devolved," he said.