Unrest: More than 150 students end term two in the dock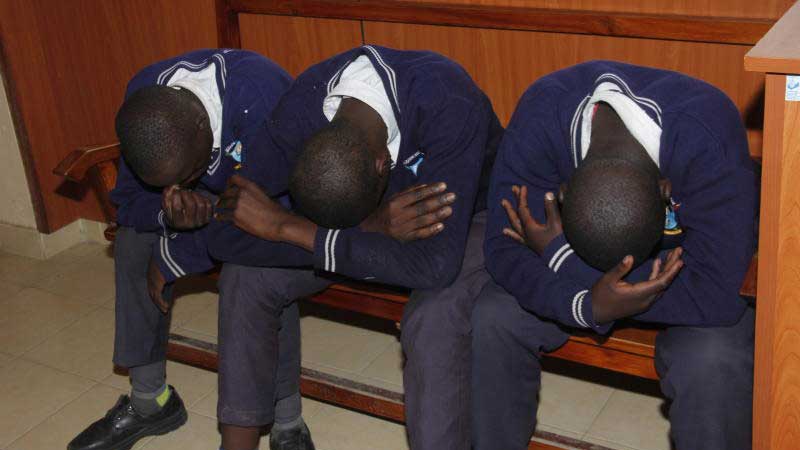 At least 152 students have been charged in court following the recent spate of unrest in secondary schools.
Initially, about 390 had been arrested following the disturbances that have rocked 77 schools in the country.
Students have been accused of destroying school property and even assaulting teachers, actions that authorities have warned will not be tolerated.
The Ministry of Education has blamed the unrest partly on stringent measures put in place to ensure this year's Kenya Certificate of Secondary Education examinations, which are scheduled to start on November 5, do not leak.
Education Cabinet Secretary Amina Mohamed said there was evidence that certain people were determined to trick parents and students into believing that exam compromise was possible.
"As I have indicated before, we have put in place measures to guarantee the integrity of the national examinations. I urge parents and students not to be misled by criminals," said Amina last week.
Vandalising property
She said students' vandalising of property, probably to express their frustrations, would not work.
"There are sufficient avenues for students to ventilate their frustrations, either directly or through parents and guardians. Destroying school property is a criminal act and shall be treated as such."
Amina added: "Every learner proved guilty of arson or conspiracy to commit the crime of arson will be subjected to the juvenile justice system."
So far, three students have been sentenced to one year in jail. Figures show that at least 25 schools in central Kenya have been closed and 126 students arrested. In Nyanza, 17 schools have also been shut down and 49 students arrested.
They include seven girls from Kisumu Girls, five boys from Chulaimbo High and two from Butoro Secondary. They have been released on bond.
In the North Rift region, there has been unrest in seven schools and 17 students have been arrested. St Joseph Chepterit Girls in Nandi County was one of the worst hit, suffering two dorm fires in a week before it was closed.
In the South Rift region 25 students of Njoro Boys were arraigned in Nakuru and charged with damaging school property. Four students from St Anthony Boys have also been charged with attempted arson after being found with three litres of petrol.
The four were released on Sh50,000 bond and a surety of the same amount, or cash bail of Sh40,000 each. The case will be mentioned on August 8.
In western Kenya, at least 54 students have been arrested from 16 schools in Kakamega, Busia and Bungoma counties.
In Nairobi, Highway Secondary became the latest institution to be shut down on July 23 when students were sent home after mattresses were used to set fire to a dormitory.
Closed indefinitely
Thirty-one students and a worker were injured as they tried to put out the fire. The incident happened one week after Aquinas Secondary School was closed indefinitely after students went on the rampage to protest at the reprimanding of their colleagues for allegedly plotting to burn down the school.
Fifteen students from Aquinas and three from Huruma Girls have appeared in court.
But even as the wave of school fires appeared to be spreading, the Education ministry said the cases were fewer than those seen in previous years.
And Amina's no-nonsense approach has been echoed by more education officials.
"Stop burning schools and throwing these tantrums. We are not going to be moved. If you like, burn more. We will administer those exams under trees," warned Kenya National Examinations Council Chairman George Magoha during a visit to one of the affected schools in Nyanza.
According to Prof Magoha, students were getting carried away by cartels claiming to have papers that could help them pass the national examinations.