Education sector suffers blow as cases of school dropout increases in Baringo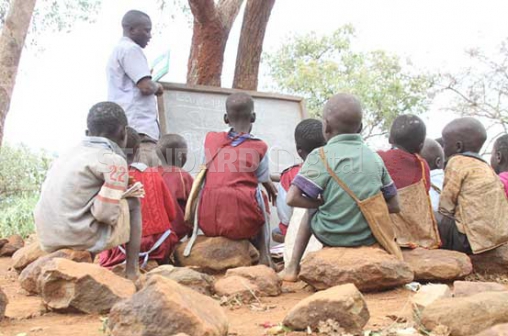 Many schools in Baringo North and Tiaty are almost deserted as hundreds of pupils drop out.
The rising cases of school dropouts, affecting both boys and girls, have been attributed to the movement of families in search of water and pasture for their livestock.
Teachers in some of the affected schools said outdated cultural practices had also ensured that pupils stayed away.
For instance, boys are introduced to herding at a tender age and will, from time to time, opt to take care of livestock instead of attending school.
More than 20 pupils of Chesakam Primary School in Tiaty constituency have dropped out since the new term began one month ago.
Headteacher Patrick Mudanya said many were likely to miss the Kenya Certificate of Primary Education (KCPE) exams slated for early next month.
He said low pupil numbers were witnessed mainly when schools re-opened after the holidays.
"At least 24 pupils did not report back when the term began and this has been the case every term. This has negatively affected education in the area as many children from the Pokot community are not attending school," said Mr Mudanya.
"In my school, boys are the most affected. They prefer to take care of their parents' livestock over going to school because that is the culture here. They do it in anticipation of taking over from their parents."
The drought that has hit many parts of the country has only complicated the situation. As parents move from one place to another in search of water and pasture, they move with their children, who are consequently forced to drop out of school.
Education journey
"In many cases, this marks the end of the education journey for these young ones as some never return to school. Others might return after two years and by then, their education has been affected. Some return only to drop out completely because they get discouraged when they find their classmates have either moved ahead or finished school," Mudanya said.
Fred Kamurkutwo, the head teacher of Nakoko Primary School in Silale ward, attributed the school dropout rate among girls to female genital mutilation (FGM) and early marriage.
"When girls reach a certain age, they are circumcised and married off. At that point, education is put aside as priorities change," said Mr Kamurkutwo.
He said those mainly targeted for circumcision were girls in Standard Six and Seven.
"In my school, at least four Standard Six girls failed to return after they were circumcised. This practice has ended the education of many girls."
Kamurkutwo said the long distances pupils have to walk to get to school is another major factor.
"Many find it hard to walk so far in the morning and again in the evening. Some of them walk as many as 20 kilometres because there is no other means of transport. With the scorching sun and unfriendly terrain, most students end up dropping out of school."
Age has also been a major issue. Many of the learners join school for the first time at an advanced age. Sometimes, older pupils are uncomfortable sitting in the same class as younger pupils.
In addition, most schools lack basic facilities, including classrooms. Pupils are made to learn under trees.
County education boss Willie Muchocho said they were working with various stakeholders to sensitise locals on the importance of education to enhance school enrolment.
Local administrators
"We have been working with teachers and parents as well as local administrators to tell them why children should be taken to school," said Mr Muchocho.
Rules the Ministry of Education introduced forbidding the forcing of students to repeat classes are also being enforced strictly to enable many to complete school.
"The rule that no child should be forced to repeat is helping because when a pupil feels they are too old for the class, they feel shy. We are also setting up boarding schools so pupils can remain in school when their parents leave in search of pasture for their livestock," said Muchocho.