Thabo Mbeki pays tribute to Mau Mau freedom fighters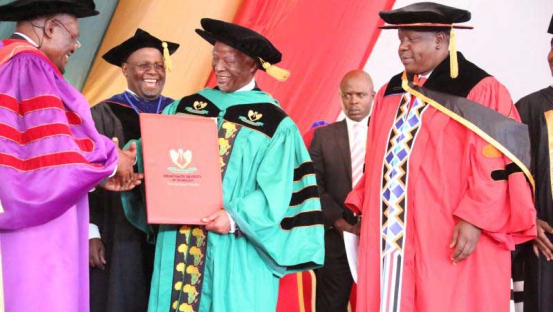 Former South African President Thabo Mbeki Friday paid special tribute to Mau Mau fighters Dedan Kimathi and Waruhiu Itote, alias General China, who he said inspired the fight against apartheid in South Africa.
"It is a great honour to be honoured by a university named after a man we respect in South Africa," Mbeki said.
He recalled Nelson Mandela's visit to the country in 1990 to pay homage to the Mau Mau and his statement, "In my 27 years of imprisonment, I always saw the images of fighters such as Kimathi, China and others as candles in my long and hard war against injustice. It is an honour for any freedom fighter to pay respect to such heroes."
Mbeki was yesterday awarded an honorary Doctorate Degree in Humane Letters by Dedan Kimathi University in Nyeri County during its 6th graduation ceremony.
Some 1,400 students were conferred with degrees and diplomas at the ceremony held at the university grounds along the Nyeri-Nyahururu highway.
Mbeki was accompanied by Education Cabinet Secretary Fred Matiang'i and his Information and Technology counterpart Joe Mucheru.
Kimathi's widow Mukami Kimathi also graced the ceremony. After the event, Mbeki went down on his knees to salute the frail Mrs Kimathi who is wheelchair-bound due to old age.
Apologised
This was the first time Mbeki visited Kenya to accept the honour he was awarded last year. He apologised for missing the graduation ceremony in 2016 when he was set to receive the degree.
Prior to the graduation ceremony, Mbeki unveiled a plaque built in his honour and planted a tree in the university grounds.
University vice chancellor Prof Ndirangu Kioni acknowledged the former South Africa President's contribution, through his Thabo Mbeki Foundation, towards preparing the next generation of African leaders.
"I'm convinced that the African intelligentsia has an obligation to understand it has a responsibility to educate young Africans, research and expand the knowledge base of the continent," said Kioni.
He said learned Africans had a role to play in ending war and strife in the continent.
Matiang'i commended the university for introducing electronic management of student information.
"People know I rarely say I am impressed when I am not," he said.