Sh6b needed for new Form One classes, says Matiang'i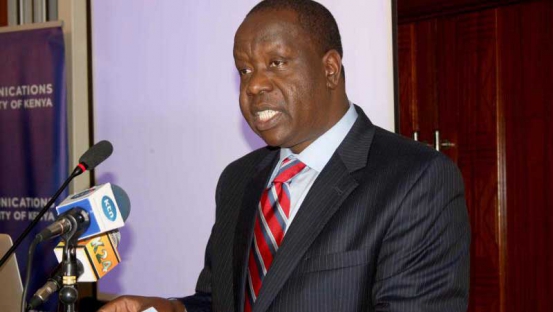 Education Cabinet Secretary Fred Matiang'i said there is 100-per cent projected transition of KCPE candidates to secondary schools next year. The projected number of Form One slots in 2018 is 1.02 million.
Consequently, some 2,000 new classrooms are being constructed. Another set of 1,000 laboratories and 1,000 sanitation blocks at a cost of Sh5.5 billion.
A brief seen by Saturday Standard detailing resource requirements to ensure 100 per cent transition to Form One estimates that each classroom will cost Sh1 million, science laboratories will be constructed at Sh3 million each and sanitation facilities will cost Sh500,000 each.
Addressing high school principals and chairpersons of the Board of Managements in Nakuru Girls High School, Dr Matiang'i, who was flanked by the Director of Secondary Education Robert Masese, said each sanitation facility will cater for two additional classrooms.
The CS said the ministry will hold workshops in five centres to sensitise school heads and BOM officials on preparations for the expected 100 per cent transition of KCPE candidates to secondary education next year.
The detailed brief reveals that this year alone, there was a gap of 150,943 in form one slots. There were only 790,680 places to accommodate the 941, 623 who sat KCPE.
The shortfalls trend for the past seven years, however, shows that there has been a declining gap, thanks to interventions by parents, Constituency Development Fund (CDF) and stakeholders contributions.
And based on these interventions, the government projects that in 2018, the available form one places will rise to 853, 934 from the current 790, 680.
Resist pressure
In addition to this by some 63, 254 increase, the government hopes that the injected additional funding will increase places to 943,934. This leaves a gap of 78,066. "In order to cater for this gap, the government will put up laboratories, classrooms and sanitary facilities."
The shortfall will occasion an infrastructure requirement of approximately Sh4.8 billion to put up additional 1,746 classrooms, 873 science laboratories and a similar number of sanitation facilities, reads the brief.
Matiang'i cautioned schools to manage the funds well.
He said office of Auditor General's Office, and the Directorate of School Audit will monitor and evaluate the use of the funds to ensure the money is utilised as intended.
Some principals claimed that MPs demanded part of the money saying they had helped secure the funds. The CS urged the principals to be firm and resist the pressure, saying the government would protect them against such blackmail.
"Every coin must go to what it is intended for," he cautioned.
The CS challenged principals to adopt attitudes that will restore order, discipline and sense of purpose in the management of education.
"We have made mistakes in the management of education in the last one and half decade. Let us return to the path of excellence," he noted.
He said 57 per cent of school resources meant for purchase of textbooks and other instructional materials do not get into schools.
Clergy blasts ODM over nominations
The National Council of Churches of Kenya (NCCK) has accused the Orange Democratic Movement (ODM) of frustrating democracy in the just concluded party primaries.