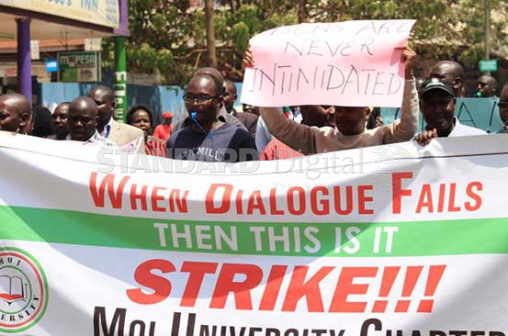 Lecturers are inching closer to a deal after their union representatives met university top management in a session termed as 'fruitful.'
The Standard on Saturday has established that University Academic Staff Union (UASU) has convened an urgent National Executive Council (NEC) today to make a major decision on the salary row that has paralysed learning for one month.
"The NEC will advise the union officials on the next course of action. But for now, talks have been adjourned until Monday," said a source who attended the meeting.
This is after it emerged that universities management accepted to address the demands set by UASU on harmonisation of salaries and allowances to match those paid to staff at Maasai Mara University.
UASU Secretary General Constantine Wasonga said this week that the salary and house allowances paid to academic staff at Maasai Mara University is way higher than the rest of workers in other universities.
Read More
And yesterday's meeting seemed to have agreed to correct the disparity.
"The Inter-Public Universities Councils Consultative Forum (IPUCCF) has agreed to harmonise the salaries and house allowances as was demanded by UASU," said one of the universities management teams, who attended the meeting.
This means that learning could resume as early as next week should NEC adopt the developments and the Collective Bargaining Agreement (CBA) is signed during the Monday meeting. Lecturers early this week set fresh conditions for accepting or rejecting the new salary offer – of 16.8 per cent and 19.5 per cent – given to them by public universities.
In a letter addressed to IPUCCF, lecturers said they will only accept the new proposals, if salary and house allowance for all staff is harmonised.
UASU said that academic staff at Maasai Mara University are paid higher salaries compared to the rest of the staff in other public universities.
Union's letter
"That the 2013-2017 CBA cycle should cure the distortions created by 2010-2013 CBA, we therefore propose a reworked calculations of your offer using the current Maasai Mara University rates as the base of the basic salaries for all academic members of staff in public universities," read the earlier letter by Wasonga, the Secretary General of the union.
Documents seen by The Standard on Saturday show that the highest-paid academic staff at Maasai Mara earns up to Sh220,419 while workers of same level in other universities earn up to Sh211,753.
Associate professors at Maasai Mara currently earn between Sh127,985 and Sh180,034 while similar workers in other universities take home between Sh122,956 and Sh172,960.
Senior lecturers at Maasai Mara earn between Sh98,068 and Sh140,775 while workers under same category in other universities earn between Sh94,215 and Sh135,243.
"Lecturers are now waiting for a reworked calculations from the universities side that factors in their proposal to enable them make an informed decision," said a union official.