It's raining graduates, where is the promised flood of jobs?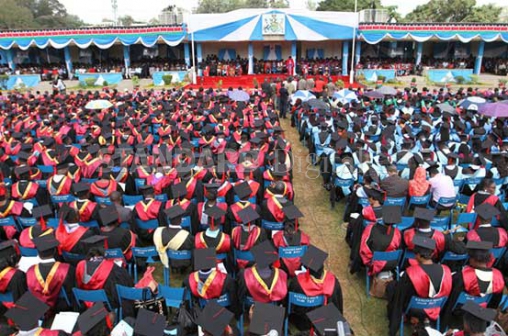 The perception that university education is a great social and economic equaliser is rapidly turning into a myth in Kenya, as it has failed to provide well-paid jobs to many degree-holders.
A World Bank report shows that it has become almost impossible for most graduates to get good jobs. Unfortunately, the issue is not because there are too many graduates chasing few jobs, but because most graduates lack the necessary skills that the job market.
According to the 'Expanding Tertiary Education for Well-Paid Jobs: Competitiveness and Shared Prosperity in Kenya' report, Kenya's tertiary education system is under intense pressure to perform. The common strand running across the much thought-out report is that whereas the number of universities currently stands at 70, very little attention have been paid towards improving graduate employment opportunities by eradicating the existing vast skills gaps.
"The delivery of quality education, including tertiary, should build the skills base of youth, enhancing their capacity to accrue higher earnings, contribute to improved national productivity and eventually lead towards healthy and sustainable livelihoods," says the report.
However, such concerns are not likely to be addressed in the near future, taking into account that most universities in Kenya, as elsewhere in sub-Saharan Africa, are rooted back in time, when universities core mandate was to prepare public sector manpower to replace colonial staff.
In addition to neglecting training for the private sector, up to now, the government and more so the universities, seem not to have woken up to the reality that with increased access to higher education, the demand for high quality jobs was bound to occur beyond what the stagnated public employment sector could absorb.
The crux of the matter is that few realised that replacing of colonial bureaucrats should have just been a stop gap and universities should have been tasked to prepare qualified manpower within the entire economy. Nevertheless, this did not happen and it might not be about to happen, which is likely to be a sad story of universities continuing offering many degrees that nobody wants outside the public service mainstream.
Half baked
According to Ishmael Munene, an associate professor of educational research and higher education leadership at Northern Arizona University and a keen observer of Kenya's higher education system, most graduates that are likely to stay unemployed for a longer time, or remain stuck in low-paying jobs are those from newly-accredited public and private universities. In that category, Munene adds satellite campuses and academic garages of established universities.
In his study on multi-campus university system in Kenya, Munene points out that those universities score low in their fundamental mission and research output because of their peripheral ranking in the country's higher education system.
"Given their poor planning, short history, low staffing levels and low faculty teaching expectations, those institutions are not technically theatres for rigorous research and teaching academic excellence," says Munene.
Such views were also expressed in private sector employer recruitment preferences and discrimination, in a recent study conducted by Prof Daniel Sifuna of Kenyatta University and Prof Ibrahim Oanda Ogachi, the programme officer at the Dakar-based Council for the Development of Social Science Research in Africa.
The findings that were part of the British Council supported study, 'Graduate Employability in Sub-Saharan Africa,' indicated that most employers in Kenya preferred graduates from University of Nairobi, Kenyatta University, Moi University, Strathmore University, KCA University, Maseno University, Catholic University of Eastern Africa, Jomo Kenyatta University of Agriculture and Technology, Egerton University and Masinde Muliro University of Science and Technology, in that order.
However, one interesting factor that separates those universities from most of their counterparts is that apart from Masinde Muliro, which was formerly a constituent college of Moi University, the rest, whether public or private, were meticulously planned institutions and probably have better degree programmes.
For instance, a good percentage of their staff with doctoral degrees perform teaching duties and conduct research, which is quite contrary to most of their colleagues in the newly-accredited universities where they are tied up in administration.
Still, although a small number of graduates attending flagstaff private and public universities might be lucky to get well-paid jobs, the bulk of graduates in Kenyan universities will, however, not be so lucky. According to the World Bank report, the main problem lies in failure to establish quality and relevant programmes that would enable local companies to recruit workers with an appropriate mix of applicable skills and knowledge.
Skills gap
"Simply tripling the capacity of degree programmes and the number of institutions is likely to lead to situations where graduates cannot find suitable employment, are underemployed and their education skills are not properly utilised for the economy's benefit," says the report.
Subsequently, instead of duplicating degree programmes of the established universities, the World Bank has urged, the so-called village or regional universities to establish their own academic missions and build degree courses to cater for region-specific labour market demand.
Nevertheless, scrutinising degree programmes that have been approved by the Commission for University Education, few universities might be playing that card. All universities are currently locked in cut-throat competition for recruitment of students in identical courses, especially in humanities, social sciences, business studies and information and computer technology.
So far, more than 80 per cent of Kenya's over half-a-million university students are enrolled in such programmes, a factor that keeps one wondering whether it is a good investment, taking into account the country's resources limitations, as well as, the proved poor individual returns.
Ideally, expansion of higher education in Kenya, or anywhere else in sub-Saharan Africa is vital as it has potential to play a crucial role in development. But this could only be achieved if students were to get quality skills that are not just relevant to the needs of the labour market but would also improve their individual prosperity.
The crux of the matter is that in the Kenyan context, just as anywhere else in the world, low quality higher education is increasingly entrenching social inequalities that are equally bad for national progress and political stability.
In this regard, the government and universities have a responsibility to ensure provision of quality tertiary programmes is enforced, while students should also know that whereas quality higher education can eradicate social inequalities, degrees without skills are useless.
Six people killed in Meru road accident
At least six people died Saturday evening after a driver lost control of a lorry that was carrying unspecified number of people from Maua to Kina and Garbatula.