State response after gold mine accident lacklustre
EDITORIAL
By Editorial | Dec 14th 2021 | 2 min read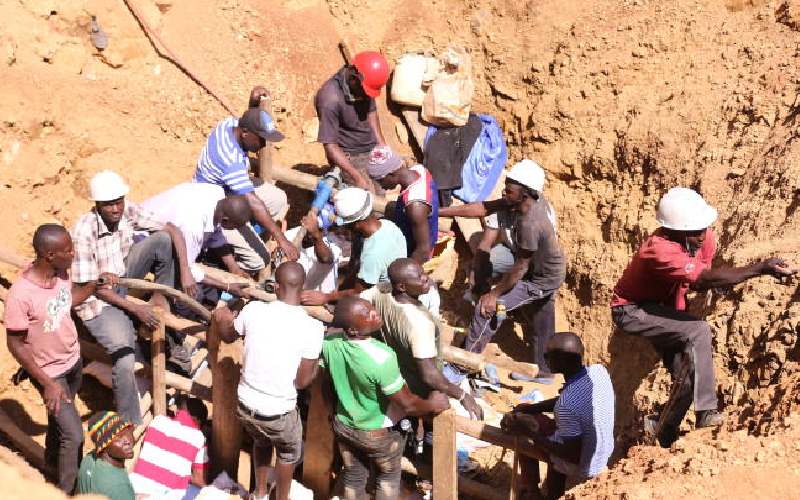 Ten miners were trapped inside the Abembo gold Mine in Siaya County after the walls collapsed on December 2, 2021. Three days after the incident, a dead body was retrieved and six days later, three miners were rescued and taken to Bondo Sub County hospital.
For six days, they survived purely on oxygen that was pumped through a pipe into the shaft they were trapped in at regular intervals.
In total, eight people have so far been rescued. Unfortunately, one of the miners is still trapped inside the shaft and it is not yet clear whether he is alive or dead. He has been trapped inside the mine shaft for nearly two weeks without food or water.
The Abembo accident is not the first of its kind. In Kakamega and Vihiga counties, for instance, tales of miners getting trapped and killed in collapsed goldmines abound.
Whenever such incidents occur, rescue efforts have largely been left in the hands of villagers who lack basic skills and tools for rescue operations in such delicate situations. Other incidences like terrorists' attacks, floods and droughts have laid bare our lack of disaster preparedness at county and national government levels.
Seemingly, Siaya County government does not have a trained team of individuals for such emergencies. But that being the case, the county government should have immediately sought help from the national government that could have deployed highly skilled rescuers from the army, complete with requisite gear for rescue operations.
The Siaya accident should serve as a wake-up call for both tiers of government to set up quick response disaster teams.
It is important for both tiers of government to help make informal gold mines safe for the locals. With the high levels of unemployment across the country, the gold mines are a source of revenue, no matter how meagre, for those who work them daily for a livelihood.