It's not yet time for PSVs to go back to normal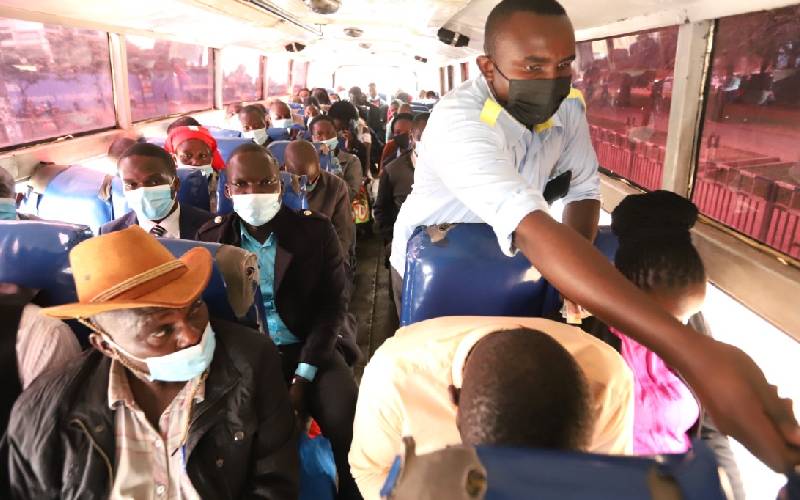 After an obviously difficult year, public service vehicle (PSV) owners have something to smile about. The government has allowed PSVs to carry passengers at full capacity again. This is good for business as the reduction by almost a half of the number of passengers a vehicle can carry has hit matatu and bus owners' bottom lines.
While we do not begrudge them an opportunity to return their businesses to full profitability, we feel that the timing of this move is wrong.
While we do know what factors the government has considered in taking this decision, we do know that Covid-19 we at a critical point in so far as Covid-19 is concerned. The country is recording a high number of infections on a daily basis and our health facilities are stretched to the limit. The Delta variant, which is more infectious and deadly, is behind our current predicament.
This is just not the time to allow matatu to go back to normal. We have seen what has happened when the Covid-19 containment measures are ignored. The current surging wave has been blamed on political gatherings that have taken place in the recent past.
Although matatu owners have promised that they will enforce other containment measures such as wearing of masks, it is hard to believe them. One may want to know why few if any matatu today have hand sanitisers as was prescribed at the beginning of the pandemic. In addition, it is an open secret that some matatu have been carrying more than they are required to.
The relaxing of rules for PSVs makes people to wonder why the same has not been extended to places of worship, where, of course, there is more discipline and order, or even the relevance of the night curfew.
The government shouldn't do experiments with our lives.
Arrest these fraudsters
Security agencies in conjunction with health authorities must do everything to stop wily individuals from taking advantage of desperate Kenyans.