Heed weatherman's floods warning and move to safety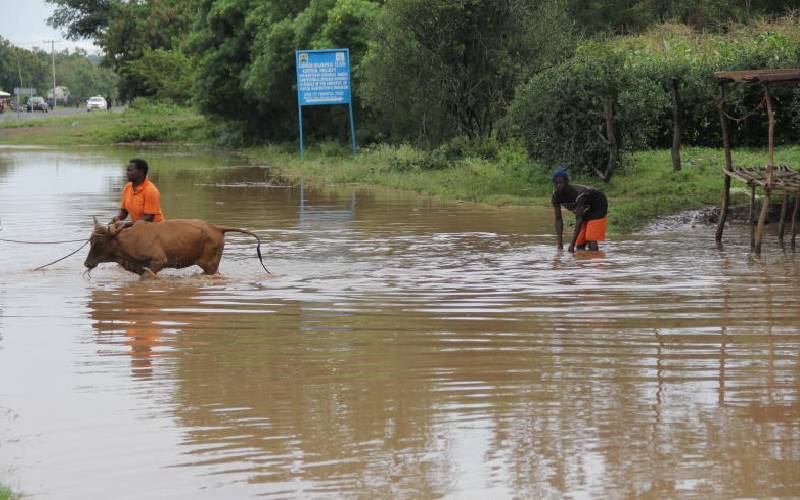 The Meteorological Department has predicted heavy rainfall in at least 15 counties in the first week of December, which begins tomorrow. Forecasts show the rainfall will be between 30mm and 40mm, increasing the possibilities of floods and landslides, especially in Central and Western regions.
Some of the counties that have been put on alert include Garissa, Mandera, Marsabit, Nyeri, Isiolo, Kisii, Nyandarua, Laikipia, Kiambu, Murang'a, Embu, Meru, and Kirinyaga.
Even without the expected heavy rains, some of these areas have been experiencing a strange natural phenomenon.
Water levels in Lakes Baringo, Nakuru, Naivasha and Victoria have been rising in recent months, and some of the water has found its way into villages where, today, a number of families have been forced to leave.
In October, the Red Cross reported that Turkwel Dam in Pokot was at 92 per cent of its capacity and the water was rising steadily. Heavy rains could tip the balance, in which case at least 30,000 families could be affected if the dam bursts.
Given the warning by the Meteorological Department, it is important for people in affected areas to take necessary steps to protect both life and property. Early this year, floods were reported in Tana River, West Pokot, Kisumu and Busia.
Farms and houses along major rivers were destroyed and some human beings and livestock lost lives. While nothing could be done to save farms, crops and the destroyed houses, some of the deaths would have been prevented had people heeded early warnings and moved to safer grounds.
It is incumbent upon the government to take the initiative and conduct swift but orderly relocation of those likely to be affected.
This is important to ensure that the Ministry of Health guidelines on Covid-19 are not thrown to the wind while people jostle for space in confined areas where they seek refuge.
Those who are likely to move will need material and financial support from the national and county governments.
Some victims of earlier flooding were left on their own and are yet to recover from its ravages. Some live in makeshift houses after their homes were destroyed and are yet to be rebuilt. They lack the means to do so, especially after Covid-19 brought unprecedented socio-economic disruptions in its wake.
The government should act fast to avoid past mistakes and ensure that lives are not lost this time around, and that people do not suffer hunger and thirst if the floods and landslides predicted by the meteorologists come to pass.
Take a quick survey and help us improve our website
Take a survey