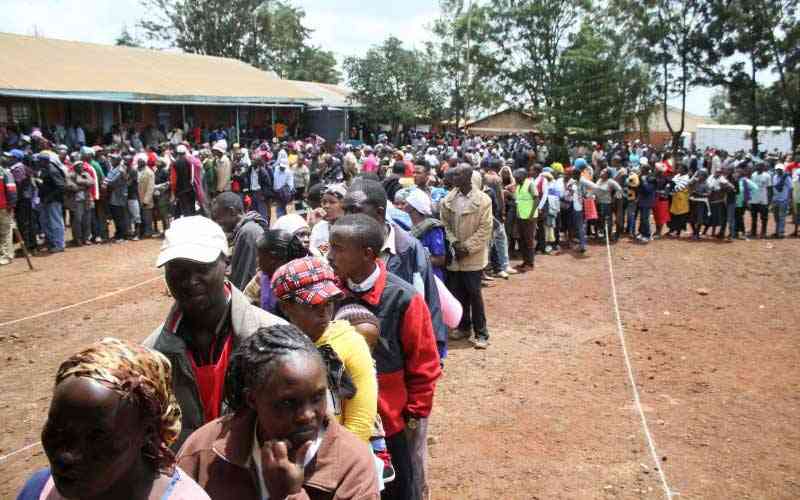 In the 1997 elections, I campaigned with all my heart and soul for the current Kitui Governor to be President. That was the first time I came face to face with how deeply ingrained patriarchy is in our politics. As I went round Central Kenya, a place that I assumed was generally open to women leadership, many rank and file citizens laughed away the campaign for a woman.
Surely, one of my favourite aunties, a primary school teacher and local opinion leader asked me, if women can't even run homes without husbands, how can a woman imagine she can lead a whole nation?
It was a sobering realisation that we had been socialised to accept that women had no place in the inner sanctums of political power. Unfortunately, at that time there were few successful women political leaders I could point to.
Even those who had been appointed Ministers had been relegated to the demeaning Ministry of Culture and Social Services. Twenty-three years on, the instinctive belief that women are not as good as men in political leadership still exists.
The difference is that today I can point to the Martha Karuas, the Labosos, the Charity Ngilus, my own good wife and numerous other women who have proven that women can do just as well, and sometimes better, than men in political leadership.
Read More
Even more importantly the constitution has now decreed a requirement for a gendered leadership, requiring that in most arenas of leadership, no gender should occupy more than two-thirds of available positions.
Despite this constitutional decree, we still have not filled this small quota in the National Assembly. The BBI has changed all that by opening an avenue for meeting the gender quota by placing the responsibility to make the right choice where it should be; on the voter.
The new provisions allow citizens to elect women both as MPs and MCAs. Political parties are required, at the risk of sanction, to ensure that they nominate not more than two-thirds of any gender for electoral seats, a requirement that parties can easily cheat by, for instance, by nominating women in the regions where they are weak.
Yet we all know that there are qualified women who can win seats anywhere if it was not for their gender. This time, however, if the voters refuse to elect women, as is their democratic right, they must be willing to pay the cost of extra MCAs and MPs.
For the National Assembly, failure to elect any woman as MP will mean nomination of 103 women MPs. In the County Assemblies, failure to elect any woman as MCA will mean nomination of about 750 women MCAs.
Any constituency that elects a woman as MP and any Ward that elects a woman MCA will reduce these numbers with a corresponding reduction on the wage bill. Kenyans must now vote with their wallets in mind!
There is yet another component of the BBI on the nomination question that is exciting. The nominated seats are no longer the preserve of parties to dish out to loyalists and girlfriends. Nomination is now available only to persons who stood for elections with those getting the highest number of votes getting preference.
The advantage of this provision is that it encourages women to stand and campaign for electoral seats thus interning them into electoral politics. The added advantage is that even if they do not win the ultimate electoral seat, there is the possibility that they can still end up in leadership if they perform well.
Finally, the requirement for consideration of opposite gender in the gubernatorial seats will no doubt increase the number of women in these premier leadership seats.
Granted, the opposite gender requirement is not mandatory but I do not see many leaders avoiding this gender mix without paying a heavy political price.
One prays for the day we shall elect leaders purely on merit without consideration of their gender. Until that time, we must recognise that failure to comply with a reasonable constitutional requirement will come at a heavy price. Consider yourself notified.
-The writer is an advocate of the High Court of Kenya