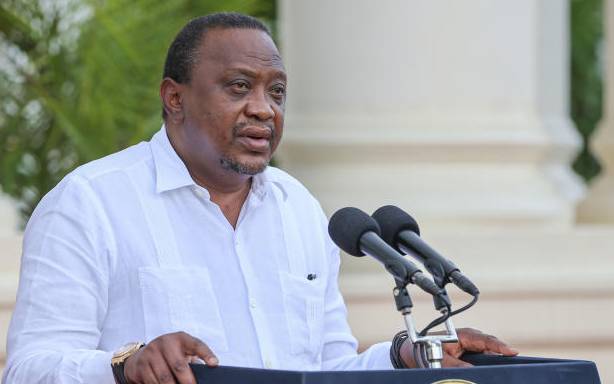 After yesterday's meeting with governors, President Uhuru Kenyatta announced a raft of measures aimed at curbing rising coronavirus infections. The measures have been in place since March 2020 except that civilians and leaders alike have deliberately chosen to ignore them in the pursuit of different goals.
Among others, the curfew hours have been revised from 11pm to 5am to 10pm to 4am, workers aged 58 and above and those with pre-existing medical conditions have been allowed to work from home.
A ban was also imposed on political rallies and gatherings for the next 60 days. Additionally, bars and restaurants must close by 9pm while churches should admit not more than a third of their capacities.
The planned full reopening of schools was pushed to January 2021. However, students who are already in school will continue with their studies, but with enhanced vigilance.
These are, of course, painful measures. It means, among others, that some businesses will not make as much money as they have been making due to the curfew, and that there is no reprieve for learners who have been at home for the better part of this year.
Read More
Unfortunately, it is Kenyans who have brought upon themselves these tribulations. Kenyans, it appears, mistook the reopening of the economy in September for victory against the virus. They threw away face masks and started converging in large groups, including political rallies, giving the virus the perfect environment to spread.
Leaders and the public, the president pointed out yesterday, have been behaving irresponsibly. The result is clear: The country is losing more than 10 lives daily while the number of infections has risen to over 1,000 every day. This should be enough to convince even the doubting Thomases that Covid-19 is real and that social distancing, sanitising, hand washing and face masks are the 'vaccines' we have so far.
From what we have witnessed in the recent past, there are people who don't care about their lives. They must not be allowed to put other people's lives at stake.
The best decision the president made yesterday was to direct security agencies to ensure that all and sundry follow Covid-19 containment measures.
We expect the police now to arrest those found in public without masks. But even as they do so, officers must follow the law. They must not engage in human rights abuses as they did at the onset of the pandemic.