End impunity and selective application of corona rules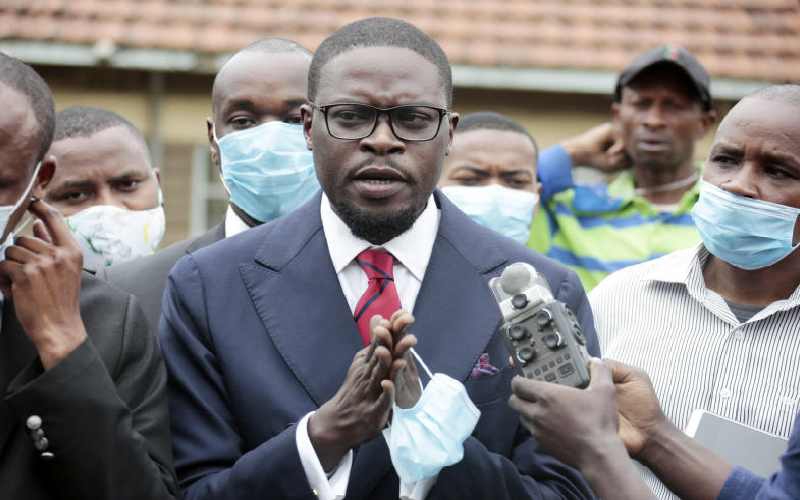 A dangerous trend is cropping up — that of leaders breaking the law at will and behaving as though they are the law unto themselves.
Impunity in our country is largely reflective of inept political leadership, whereby all accounts, public good is no longer important.
Last week, news surfaced that Nairobi Senator Johnson Sakaja had flouted Covid-19 rules only to quickly seek protection from a powerful office. He had been arrested while drinking at a pub at 1am on Saturday in Nairobi.
The legislator only showed up yesterday to apologise after media spotlight and public uproar, and to announce his resignation as the chairman of the Senate Ad Hoc Committee on Covid-19.
Regrettably, Sakaja's case is just but one among acts by elected leaders, seasoned politicians and security chiefs that signal a new paradigm of impunity in this coronavirus period. Sadly, it seems to be cascading across the nation.
The Nairobi senator's public apology, we believe, was well in order, but is too little too late in the day.
Each time a leader breaks the law, colleagues rush to their defence. Sakaja's case was no different. Vocal Kakamega Senator Cleophas Malala was emphatic that being found in a bar past time is like forgetting to wear a mask while eating. He took to social media yesterday, saying the Senate will not accept Sakaja's resignation from the committee.
Take a quick survey and help us improve our website!
Take a survey
In other cases when caught on the wrong side of the law, leaders invoke powerful names and hide behind their tribes and political affiliations. When MP John Waluke was jailed over graft, his allies held prayers and shamelessly censured the Judiciary.
We caution that elected leaders should be careful not to abuse public trust. Our curse, we dare say, is a leadership that's morally bankrupt, where all that matters is power and self-aggrandisement.
The 2010 Constitution was borne from the need to safeguard the public interest, but it has not helped in reckoning or accountability, primarily because those who should champion the much-needed change seem to lionise graft and impunity. The disregard for even simple public order rules index an urgent need to call out these merchants of impunity in our midst. No one should use Covid-19 regulations to their advantage.
We've seen police in Western Kenya selectively enforce rules, where some leaders are allowed to host meetings while others are hunted down and teargased.
The drama preceding a meeting by Deputy President William Ruto's allies in Hamisi, Vihiga County at the weekend proved just how brutal the police could be in enforcing Covid-19 restrictions. This was happening the same day Kakamega Governor Wycliffe Oparanya and CS Eugene Wamalwa were holding a meeting attended by more than 1,000 people at Masinde Muliro University.
In Bungoma County that same weekend, another political group, Mulembe Youth Movement, was meeting at the home of ODM Secretary General Edwin Sifuna without disruption and with full security provided by police.
Top security officers in the region cannot explain why some political meetings are being disrupted as others that seem to rally support for the Building Bridges Initiative are allowed to go on. Why these double-standards?
We reiterate that leadership and commitment to the law are inseparable. This point is further driven home by Chapter 6 of the Constitution under leadership and integrity of public officers. It decrees that those whose conduct does not bring honour, public confidence and integrity have no place in management of public affairs.
The government has been blatantly disobeying court orders and there are public officials charged with various serious offences, but who've chosen not to step aside. This has to change. It is only in paranoid states where the selfish political class is obsessed with trampling the public.
There's no denying that the most important virtue in leadership is to obey the law of the land and to do what is right. The public, too, has to obey the law and shouldn't shield law-breaking leaders. These grave dangers to our democracy are real and should worry us all.