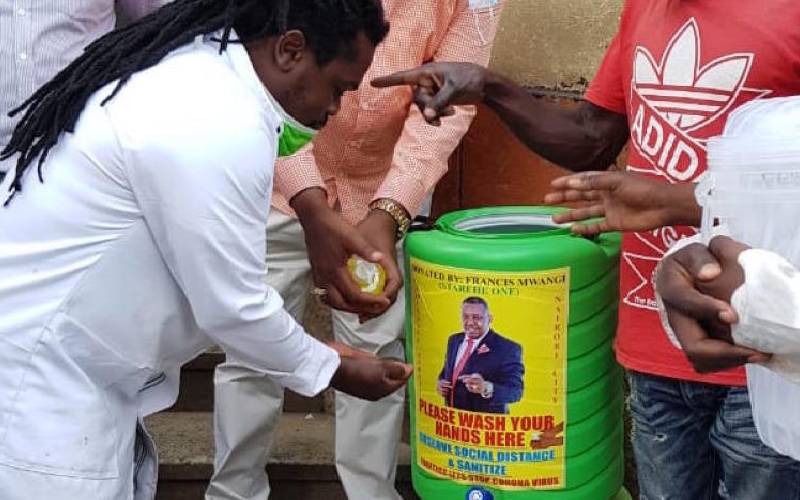 Our political leaders are renowned for demonstrating showmanship than the leadership for which they were elected. Across the country, projects undertaken by devolved units, from schools, offices and even toilets are accompanied by billboards of smiling governors.
Sadly, even the coronavirus pandemic that has rudely disrupted the lives of Kenyans has given some of our elected leaders the perfect opportunity to market themselves.
Face masks, soaps, water and sanitisers needed to keep us safe from Covid-19 come at a cost that many Kenyans are ill-equipped to foot.
While the first reported case of coronavirus in March made our political leaders to discreetly withdraw from public limelight, many have since come out to popularise themselves after seeing an opportunity. They have been seen delivering drums full of water branded with their names. Across the country, governors, MPs, senators and MCAs have initiated programmes to deliver branded sanitiser to residents.
Read More
Nonetheless, their timing is poor, and the prevailing circumstances make it immoral for them to do so. Both national and county governments have set aside funds to ease the burden of coronavirus on the less fortunate in society, but that has largely been abused by leaders.
Cases in which governors, MCAs and MPs buy goods for distribution to the public using public funds yet go ahead to brand them with their own names abound. That portrays a level of dishonesty that Chapter Six of the constitution frowns upon.
But in a welcome move, the Ethics and Anti-Corruption Commission has written to governors to stop this type of deceit. Such branding subverts democracy by giving the incumbents undue advantage.