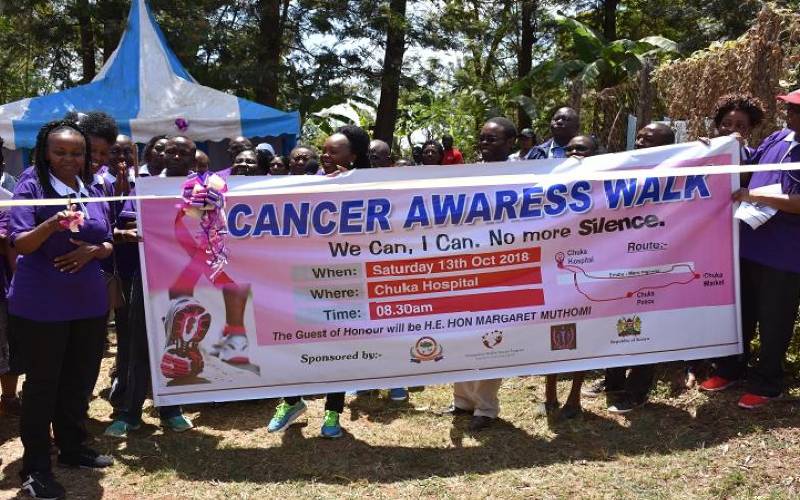 Over the last decade or so, cancer has become a matter of grave national concern. Cumulatively, it is estimated 40,000 new cases of cancer arise in Kenya every year, while 27,000 people are killed by the disease annually.
Before the rollout of the Managed Equipment Scheme, which gave two hospitals in each of the 47 counties machines to diagnose and manage cancer, the burden was on Kenyatta National Hospital. As a result, many patients died unattended while awaiting their turn due to the long waiting list.
Yet despite the availability of these machines, cancer treatment remains a major challenge due to the high cost of treatment.
In 2018, the National Cancer Institute (NCI) pointed to a rise in oesophagus cancer, particularly in the Rift Valley, Eastern and North Eastern regions. This cancer kills more than 4,000 people in Kenya annually. But while the study by NCI identified the intake of milk popularly known as mursik, the chewing of miraa while drinking hot tea as main causes, scientists later challenged such findings and demanded a more conclusive research.
Read More
A new study at Meru Hospice now shows that Meru region has one of the highest number of stomach cancer cases globally.
The cancer was found mostly among those between the ages of 50-69, according to the study.
The findings of the Meru study are shocking and they call for further research to establish exactly why there has been a surge in the number of stomach cancer cases in the county.
After finding out what is fuelling the cancer, the State will be better placed to advise residents on how to protect themselves.