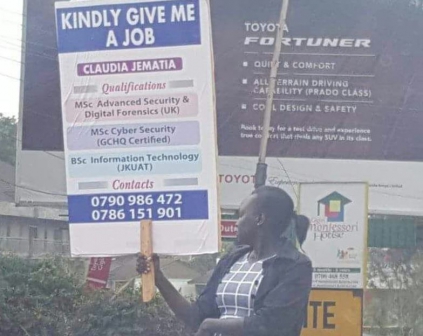 The picture of a woman holding aloft a poster seeking a job, any job, caused a stir on Facebook early this week. Claudia Jematia has a master's degree in advanced security and digital forensics and a bachelor's degree in information technology from JKUAT.
Claudia is among millions of highly educated Kenyans who cannot find jobs.
Her plight comes against the backdrop of renewed clamour by MPs for fatter emoluments. As expected, this has been greeted with indignation from right-thinking Kenyans, more so because those on the frontline of this push have not even take their oath of office. It is easy to understand why many Kenyans are upset.
It all comes down to productivity and the state of our economy. Are MPs paid a lot because of the amount of work they do or are Kenyans shouldering a heavy wage bill for little work done? A developing nation, can Kenya continue to pay its MPs a wage that rivals what their counterparts in developed countries get?
On average, a Kenyan MP takes home Sh720,000 in salary, which, with an additional Sh2 million in sitting and travel allowances, makes the legislators among the world's highest paid.
With an unemployment rate above 40 per cent, spending so much money on a privileged, pampered cabal is monstrous. It should not be allowed, especially because the high pay does not translate to work done. An MP's job is essentially to make laws and to check the Executive and the Judiciary. That hardly explains the role of a Kenyan MP as we have come to know.
MPs hide behind their assumed role of social safety net to increase their salaries and allowances on a whim. Instead of making laws that ensure that productivity is maximised and that national wealth is equitably shared, MPs glorify the culture of handouts. We also know that politics, and especially an MP's seat, is an avenue to cut deals and amass wealth.
This partly explains the cut-throat competition for the seats, as demonstrated in the recent elections.
The protest of the MPs-elect at the Salaries and Remuneration Commission's proposals is mischievous and outrageous. Gladys Wanga and Gathoni wa Muchomba campaigned knowing well what pay to expect. It is dishonest, therefore, for them to now turn around and say the pay for the job they assiduously sought is inadequate. Many Kenyans, like Claudia, would take much less to do more work.