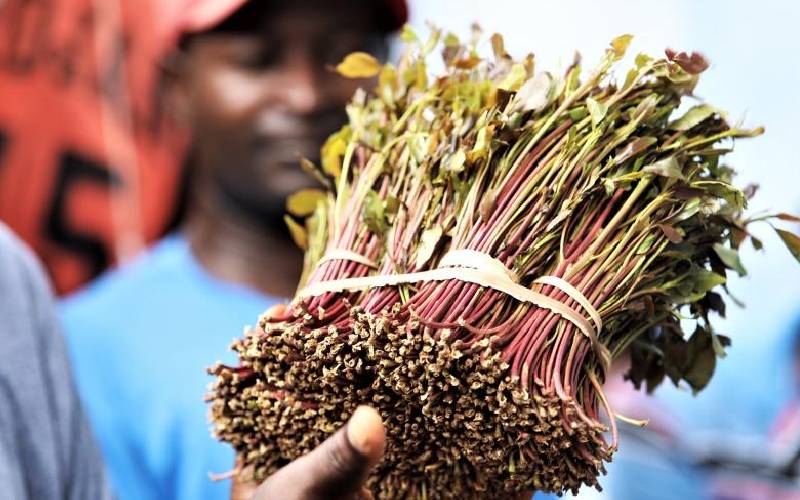 New regulations to govern miraa production and trade in Kenya have finally been published, three years after they were formulated.
Among other things, the Crops (Miraa) Regulations, 2022, will ensure the production of quality miraa, both for export and local consumption.
Miraa shall not be stored or transported together with other products that may contaminate it or otherwise adversely affect its quality, state the regulations.
They also provide that a vessel used for transportation of miraa shall be built and equipped accordingly to ensure maintenance of optimal temperatures and hygiene to prevent damage, contamination, and spoilage of the produce.
There shall also be codes indicating the country of origin.
But more importantly, the regulations that have been published in the Kenya Gazette are aimed at ensuring farmers are not exploited.
Miraa is widely grown in Nyambene in Meru County. The crop is also grown in Tharaka Nithi, Embu, and Kirinyaga counties.
The regulations will cover the entire value chain, from production to consumption. They also provide for the registration and licensing of miraa growers and dealers.
Former Director of Pyrethrum, Miraa, and other Industrial Crops at the Agriculture and Food Authority (AFA) James Mutia, under whose watch the regulations were developed, said the government will register all miraa farmers to establish their numbers.
He said the new rules also provide for government support to farmers, and towards the development of the crop.
"In addition to the regulations that will ensure other players do not exploit farmers, the government is keen on the production of quality miraa for local and export markets," said Mr Mutia who resigned from AFA to run for the Igembe Central parliamentary seat in August.
"The purpose of these regulations is to make sure we support miraa farmers and traders through a committee that will ensure the right pricing of the commodity.
"Empowering farmers will also eliminate the challenge of exploitation by middlemen. That way, we will be able to set reasonable prices that will mean more money into the pockets of farmers and local traders. This will also expand the miraa market. Some countries have insisted on the miraa regulations because they want us to meet certain standards," said Mr Mutia.
Nyambene Miraa Farmers and Traders Association chairman Kimathi Munjuri welcomed the laws, saying they will help streamline the production and trade of miraa.
"The regulations should have been here three years ago. We do not know why it has taken the government this long to publish them. However, it is good that they are finally here, and they will help us address some of the challenges the sub-sector has been facing," said Mr Munjuri.