Locals in the bush after eviction for dam's expansion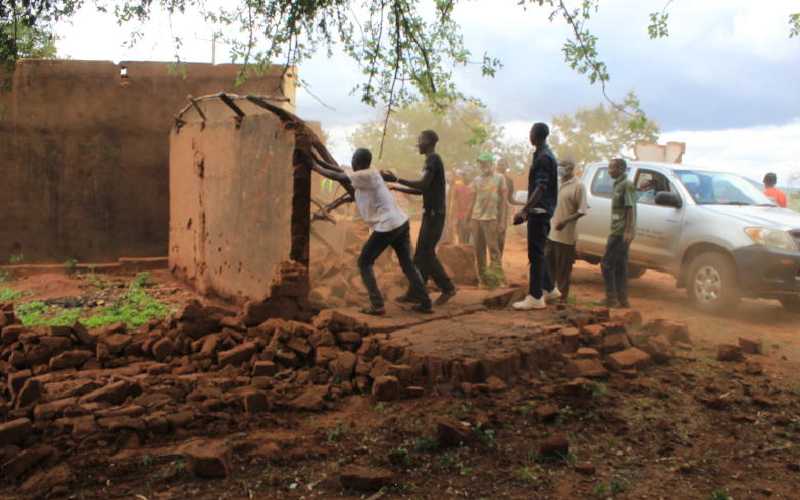 Hundreds of residents have been forced to sleep out in the cold after they were evicted from a parcel of land being claimed by Tana and Athi Rivers Development Authority (Tarda) last weekend.
The authority which has won a battle in court to repossess the land from the encroachers is seeking to expand the Kiambere Dam.
The eviction has left hundreds of locals from Mumoni sub-County in Kitui homeless, with many now forced to live in squalid conditions, a few metres from the dam cutline.
Those affected are from Kithumuoni, Borrow Pit and Katithini villages near Kiambere Dam where houses were demolished in an exercise carried out by armed police officers and hired youth.
"We are sleeping outside and are in danger of being attacked by animals. Our children have no blankets and are at risk of contracting pneumonia," lamented Esther Munyoki yesterday.
The mother of nine said she did not salvage anything from her house during the forcible eviction.
"They set ablaze our granaries where we had stored food. It's as if they want us to die. I have nothing to feed my children on," she said from her makeshift structure.
Like many other squatters, she wondered why the government had turned against them.
Mary Kalekye who was evicted from Katithini village said she has been forced to rent a single mud-walled room which she is sharing with other people to shelter her weeks-old baby from the biting cold.
"That has been our home since I was born. We don't know any other home," she said.
Mukiti Munyambu who is the representative of the evictees pleaded with the national government to come to their rescue.
"The government should find a place for us to settle. We should also be given tents and food because our livelihoods have been destroyed," he said.
The fate of three schools that sit on the disputed land remains unclear as majority of the learners are among the displaced.
Mwingi North MP Paul Nzengu together with Mumoni ward MCA Jonathan Kanandu condemned the evictions.
"This is shocking, that a government can evict its own people without any help at all," the MP said while donating bedding and foodstuff to the displaced.
Residents were evicted after the expiry of one and half years notice that was obtained by Tarda through its acting MD Emilio Mugo.